Supreme Court Quietly Ignores Same-Sex Marriage, Leaving Intact State Rulings Allowing It
Wednesday, October 08, 2014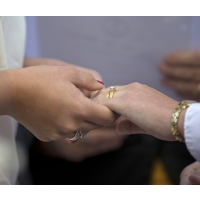 (photo: Manuel Balce Ceneta, AP)
This week, the U.S. Supreme Court decided to not review multiple federal appeals court rulings that struck down bans on gay marriage in Indiana, Oklahoma, Utah, Virginia and Wisconsin. The decision came with no fanfare; instead the cases were listed among 81 pages of others that the justices declined to take for their upcoming term, as is the court's practice.
Robert Barnes of The Washington Post wrote the court likely rejected the cases for two reasons: It has demonstrated a preference for "incremental" change when it comes to significant shifts in law, plus members of the conservative wing knew they probably lacked the votes to overturn the appellate decisions in the Fourth, Seventh and Tenth Judicial Circuits that tossed state laws outlawing same-sex weddings.
The result of the court's inaction is that gays and lesbians can now marry in five more states, with another six, Colorado, North Carolina, South Carolina, Kansas, West Virginia, and Wyoming, on the horizon due to these states' bans being covered under the appellate rulings that the court let stand. Any suit against those states' laws prohibiting same-sex marriage would likely be quickly resolved in favor of the plaintiffs.
If prohibitions in these half dozen states fall, the nation will have 30 states that have legalized gay marriage. It also will mean "a majority of all Americans will live in a place where same-sex unions are legal," according to Barnes.
Gay rights proponents hailed the court's decision. "An action like this is profound," Mary Bonauto, a lawyer with Gay & Lesbian Advocates & Defenders (GLAD), told the Post. "I expect that lower courts will get the message."
-Noel Brinkerhoff
To Learn More:
Supreme Court Lets Stand State Rulings Allowing Same-Sex Marriage (by Robert Barnes, Washington Post)
High Court Refuses to Rule -- and Gives Tacit Victory -- On Same-Sex Marriage (by Ashley Fantz and Bill Mears, CNN)
Here's What Marriage Equality Looks like after the Supreme Court's Action Today (by Zack Ford, ThinkProgress)
Reagan Appointee becomes First Federal Judge to Okay Ban on Same-Sex Marriage (by Noel Brinkerhoff, AllGov)
Supreme Court Marriage Ruling Brings Ray of Hope to Gays Anxious for Divorce (by Noel Brinkerhoff, AllGov)