Superintendent of Arlington National Cemetery: Who Is Kate Kelley?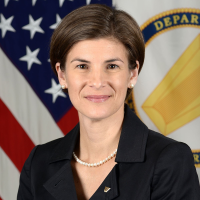 Kate Kelley
Katharine "Kate" Kelley, an Army veteran and longtime civilian employee of the Defense Department, took over in January 2016 as the superintendent of Arlington National Cemetery, the most prestigious of U.S. military cemeteries. More than 400,000 people, including military casualties and veterans from every U.S. war—from the American Revolution through U.S. interventions in Afghanistan and Iraq—are buried at Arlington.
Kelley is from Sheffield, Massachusetts, daughter of Joseph and Christine Kelley. She attended the Berkshire School there and went on to Villanova, where she graduated in 1999 with a B.A. in political science. She subsequently earned an M.A. in international relations from the University of Oklahoma in 2003 and an M.A. in national security and strategic studies from the Naval War College in 2012.
Kelley went into the Army after graduating from Villanova. She served as a logistics officer in Europe in the 1st Infantry Division. Kelley left the Army in 2003 and moved into the private sector as a business process associate for Booz Allen Hamilton.
However, in 2007 Kelley returned to the Army as a civilian strategic planner in the Army Materiel Command. The following year, she took charge of the command's Base Closure and Realignment Commission (BRAC) as the division prepared to move from Fort Belvoir, Virginia, to the Redstone Arsenal in Huntsville, Alabama. In April 2010 was named chief of base realignment.
Kelley's first stint at Arlington National Cemetery came in June 2012 as its chief of standards and evaluation and director of accountability. A year later, she was made director of enterprise management at the Army's Information Technology Agency. In January 2014, Kelley was promoted to chief of staff of headquarters services in the Office of the Administrative Assistant to the Secretary of the Army. She held that position until moving back to Arlington National Cemetery as its superintendent. On March 2, 2017, she was inducted into the Army's Senior Executive Service.
-Steve Straehley
To Learn More:
Official Biography (pdf)