Slovenia's Ambassador to the United States: Who Is Stanislav Vidovič?
Monday, September 04, 2017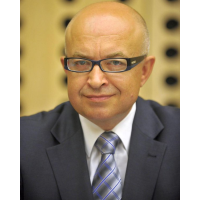 Stanislav Vidovič
Stanislav Vidovič, a longtime member of his country's Ministry of Foreign Affairs, presented his credentials as Slovenia's ambassador to the United States on July 21, 2017.
Vidovič was born in 1963. His political opponents claim he was born in Croatia and that his wife is Croatian. Vidovič's official biographies do not give the details of his place of birth, his exact date of birth or his wife's name. Vidovič earned a degree in political science from the University of Ljubljana in 1988 and followed up with a master's degree in the same field in 1994. He taught at the university for three years before joining Slovenia's Intelligence and Security Agency in 1991, the year the country separated from Yugoslavia. He served as head of the analytical and documentation department and was adviser to the agency director.
Vidovič left the agency in 1994 and worked for a year as a lobbyist for the tourism and gambling industry. In 1995, Vidovič took a job as public affairs adviser to the secretary general of the Dnevnik (Daily) newspaper.
Vidovič joined the Ministry of Foreign Affairs in 1996 as head of its analytical department. In 1998, he was made deputy chief of mission at NATO headquarters in Brussels and he returned home in 2003 as head of the ministry's NATO unit.
In 2005, Vidovič was named to lead the ministry's security policy department. He won his first ambassadorial post in 2009, when he was chosen to head Slovenia's mission to the Slovak Republic. Vidovič returned to Slovenia's capital, Ljubljana, as head of the ministry's European Policies department.
Vidovič was appointed secretary general of the Ministry of Foreign Affairs in 2014. In this position, he negotiated a 2016 deal for Slovenia to gain control of six former Yugoslav diplomatic buildings in Brazil, Morocco, Tanzania and Mali that Slovenia was supposed to get under the terms of the 2001 accord specifying the terms of Yugoslavia's breakup.
Vidovič is one of the founding members of the SMC—Slovenia's Modern Centre Party—a center-left organization. He is also Slovenia's ambassador to Mexico.
Vidovič is married with one son. He speaks English, German, Slovak, Croatian and Serbian and enjoys jogging, fly fishing and gardening.
-Steve Straehley
To Learn More:
U.S. State Department Cables 2005-2009 (WikiLeaks)