Should George W. Bush be Tried for War Crimes?
Sunday, November 09, 2008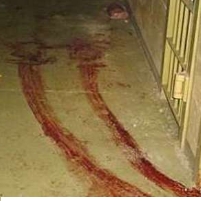 Whenever someone publicly suggests that President Bush and other members of his administration might have committed war crimes, he or she is accused of being a wild, over-the-top extremist. But there is one group of people that has always taken the war crimes charges seriously—the members of the Bush administration themselves. They have good reason for doing so, because they have exposed hundreds of Americans to possible prosecution for violating U.S. law.
From the very beginning of the war against terrorism, George W. Bush and his administration knew that the tactics and techniques they planned to use were illegal according to U.S. law. Rather than reject these tactics and techniques, they prepared a series of convoluted legal rationales that they hoped would protect them from prosecution.
So the Bush administration announced the creation of a new category of captured prisoners. Instead of being "prisoners of war," suspected al-Qaeda members or sympathizers would be "illegal enemy combatants." Since this designation was not mentioned in the Geneva Conventions, the Bush administration argued that such detainees were not protected by its provisions. As for the soldiers fighting for the Taliban government of Afghanistan, they were also "enemy combatants" rather than "prisoners of war" because Afghanistan was a "failed state" and the Taliban soldiers did not belong to an army, but a "militia."
Unfortunately, these prisoners fell into a mishmash of different categories. Some of them really were al-Qaeda members and terrorists-in-training. Others were Taliban soldiers, many of whom considered themselves to be fighting for a national army. In addition, the Taliban operated a forced labor system in which villagers were periodically expected to work for the Taliban for about twenty days at a time. Those Afghanis who had the misfortune to be doing their forced labor at the time of the U.S.-led invasion were considered enemy combatants. Because the United States offered a substantial reward for the capture of members of al-Qaeda or the Taliban, entrepreneurial bounty hunters snatched random locals, collected their rewards, and disappeared. Finally, there were innocent civilians who were just picked up by mistake. Unlike his father, George W. Bush did not give any of these people a chance to present evidence of their innocence.
The fact that these prisoners were sent to Guantánamo rather than to a military prison in the United States was another example of the Bush administration's attempt to avoid prosecution under the War Crimes Act. Administration officials declared that because Guantánamo was in Cuba and was not part of the United States, anything that was done there was not subject to U.S. laws.
At every level, from the highest officers and civilian officials to low-ranking enlisted personnel, Americans passed on the order to engage in practices that broke U.S. law.
It is time for Congress to repeal section 6b if the Military Commissions Act and for the American people to decide whether those people who violated the U.S. War Crimes Act of 1996 should be indicted.
David Wallechinsky