Sharp Increase in Deaths from Heroin and Prescription Painkiller Overdoses
Tuesday, December 15, 2015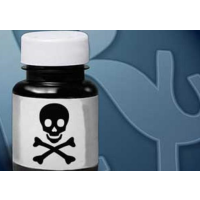 (graphic: AP/CBS)
Drug overdoses in the United States have continued to rise, led by soaring increases in heroin and prescription painkiller deaths.
Fatal drug overdoses in 2014 totaled 47,055, a 7% increase from 2013, according to figures from the National Center for Health Statistics. But that was nothing compared to the spikes in deaths from heroin-related overdoses, which surged 28% last year, and prescription painkiller overdoses, which jumped 16.3%.
Heroin deaths, which numbered 10,574 in 2014, have tripled over the past five years. The rise in opioid overdoses has come despite local, state and federal agencies devoting "additional resources to cracking down on illegal drug traffic, more widely distributing the drug naloxone, which reverses overdoses, and sending users to treatment instead of jail when possible," Lenny Bernstein reported at The Washington Post.
"The bottom line is the opioid overdose epidemic has not abated and appears to have soared in 2014," Tom Frieden, director of the Centers for Disease Control and Prevention, told Bernstein. "It's clear that we need to do more."
-Noel Brinkerhoff
To Learn More:
Deaths from Heroin Overdoses Surged in 2014 (by Lenny Bernstein, Washington Post)
Painkiller Overdoses Kill More in Tennessee than Car Accidents or Guns (by Noel Brinkerhoff, AllGov)
Increasing Addiction to Prescription Opioids Fuels Rise in Heroin Overdose Deaths (by Noel Brinkerhoff, AllGov)
My Sister Died of an Overdose of Prescription Painkillers (by David Wallechinsky, AllGov)