Security Failures at U.S. Nuclear Weapons Site Persist, Courtesy of Spending Cuts and Mismanagement
Sunday, September 06, 2015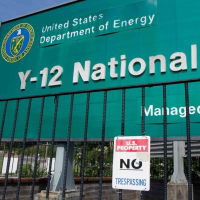 (photo: Erik Schelzig, AP)
The Department of Energy (DOE)'s Y-12 complex in Knoxville, Tennessee, holds enough uranium for 10,000 nuclear warheads. But the security system intended to keep intruders out of that facility continues to be unreliable due to poor management and spending cuts.
A review (pdf) of the Y-12 security system by DOE's inspector general (IG), Gregory H. Friedman, revealed that the agency invested about $50 million into it over the past decade. The system, called Argus, is still riddled with flaws that impede its operation, Friedman reported. Millions of dollars more will probably have to be spent to make Argus reliable.
Officials knew they had a problem on their hands three years ago when an 82-year-old nun, Sister Megan Rice, and two other anti-nuclear activists cut through Y-12's fences and walked through a field of motion detectors to deface the exterior of the Highly Enriched Uranium Materials Facility. They were able to do so because security guards ignored the warnings coming from the sensors—because they're easily set off by wildlife and the guards assumed it was a false alarm.
The situation hasn't improved much since the 2012 embarrassment. Money has indeed been spent on consultants and new sensors. However, Friedman reported Argus is still prone to frequent false alarms.
The IG "blamed the flaws on inadequate spending and poor management," according to the Center on Public Integrity. (CPI).
Those installing the system tried to do it on the cheap, CPI reported. Instead of performing a top-to-bottom modernization, they tried to integrate new equipment with older alarm wiring and cabinets. Those efforts actually caused false alarms to jump by 25%.
-Noel Brinkerhoff
To Learn More:
Audit Shows Security Gaps Persist at Nuclear Weapons Complex Penetrated by Nun and Other Activists in 2012 (by Patrick Malone, Center for Public Integrity)
Audit Report: Security Improvements at the Y-12 National Security Complex (U.S. Department of Energy) (pdf)
84-Year-Old Pacifist Nun Sentenced to 3 Years in Prison after Exposing Lack of Security at Nuclear Weapons Site (by Noel Brinkerhoff, AllGov)
Nuclear Weapons Site Reportedly Fails Security Tests (by Noel Brinkerhoff, AllGov)
Security Contractor at Nuclear Complex Accused of Cheating on Guard Tests (by Noel Brinkerhoff, AllGov)