Secretary of the Air Force: Who Is Heather Wilson?
Thursday, February 16, 2017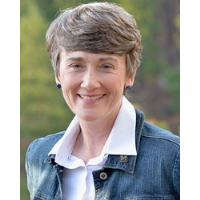 Heather Wilson
Heather Wilson, a former Air Force officer who was once named one of the most corrupt members of Congress, was confirmed in a 76-22 Senate vote on May 8, 2017, as Secretary of the Air Force.
Wilson was born December 30, 1960, in Keene, New Hampshire. Her father, George, was a commercial pilot and her mother, Martha, was a nurse. Wilson's grandfather was also an aviator, so it made sense for her to attend the U.S. Air Force Academy, where she was in the third class that included women. She earned a B.S. in 1982, but instead of going to flight school, Wilson accepted a Rhodes scholarship to study at Oxford University. She finished there in 1985 after having earned M.Phil. and D.Phil. degrees in international relations.
She remained in Great Britain, and was assigned by the Air Force to work on plans and host country negotiations. In 1987, she was moved to the U.S. mission to the North Atlantic Treaty Organization in Belgium.
Wilson left the Air Force in 1989 to take a staff job on the National Security Council (NSC) in the George H.W. Bush administration. She served as director for European defense policy and arms control. Wilson left the NSC in 1991 to become president of Keystone International, a consulting firm in Albuquerque whose clients have included the Department of Defense and Department of Energy. In 1996, she sold the firm to retired Air Force Colonel Gary Van Valin.
In 1991, Wilson married Jay Hone, an attorney and former Air Force officer who had been an instructor of Wilson's at the Air Force Academy.
In 1995, Wilson was named secretary of New Mexico's Children, Youth and Families Department. While there, she was involved in an incident that came back to bite her during her political career. She ordered that a file with information about Hone's background as a foster parent be moved to another office. The file contained a 1993 Albuquerque police report naming Hone in a possible sexual touching case involving a youth whose legal interest Hone was handling. The touching was found to have been inadvertent. Wilson defended the movement of the file at the time, saying she didn't want a file with personal information about her family available to department employees.
The movement of the file was raised during Wilson's 1998 campaign for Congress. She won a special election to fill the seat representing Albuquerque that had been held by Steve Schiff when he died in office. Wilson also won the regular election that fall.
Wilson supported President George W. Bush's 2003 invasion of Iraq because she believed that Saddam Hussein had weapons of mass destruction. When this turned out to be untrue, Wilson opposed having the House investigate why there had been such an important intelligence failure, stating that such an investigation "would do this country a terrible disservice."
Wilson remained in Congress until 2009, but had a close call in her 2006 reelection bid, winning by only 875 votes out of 211,000 cast. That came after Wilson began to push for the firing of U.S. Attorney David Iglesias after she had called him to ask about an investigation into New Mexico Democratic officials. The following year, Wilson was named by Citizens for Responsibility and Ethics in Washington as one of the 22 most corrupt members of Congress.
In 2008, instead of running to retain her House seat, Wilson sought the Republican nomination for U.S. Senate, but she lost in the primary. She had barely moved out of her Congressional office when she formed a one-person consulting firm with a $10,000-a-month contract with a division of defense contractor Lockheed Martin, which managed Sandia National Laboratory.
Although she was forbidden to directly lobby Congress, she directed Lockheed in its quest to have its management contract renewed without going through competitive bidding. Her deals with Lockheed and other nuclear contractors were later found to have violated government rules, but the hammer fell on the contractors, not Wilson. A report by the Energy Department inspector general said her invoices lacked "details as to the time expended and nature of the actual services." She also worked for Los Alamos National Laboratory, Oak Ridge National Laboratory and Nevada National Security Site between 2009 and 2011. The labs eventually reimbursed the government $442,000 that they'd paid Wilson. Lockheed eventually lost the Sandia contract.
From August 2010 until February 2011, Wilson served on the board of directors of Crossroads GPS, the Karl Rove-founded nonprofit campaign finance organization.
Wilson took another shot at the Senate in 2012, but lost in the general election to Martin Heinrich (D). During the campaign, she criticized a Senate bill aimed at cutting the bullying of LGBTQ children. While in the House, Wilson voted for a constitutional amendment that would have defined marriage as being between a man and a woman.
In 2013, Wilson was named president of the South Dakota School of Mines and Technology. She also sits on the board of defense contractor Raven Industries, which, among other products, provides radar technology to the U.S. Department of Defense and stratospheric balloons to NASA, and on the board of directors of Peabody Energy, the world's largest coal company.
Wilson and Hone have three adult children. She is a licensed private pilot.
-Steve Straehley
To Learn More:
Air Force Secretary Nominee Helped a Major Defense Contractor Lobby for More Federal Funds (by Patrick Malone, Center for Public Integrity)
Former Congresswoman Sets Revolving Door Speed Record (by Noel Brinkerhoff, AllGov)
DOE IG Flags $450K to Wilson's Firm (by Darius Dixon, Politico)
Rove Testimony Contradicts Wilson's (by John Bresnahan and Josh Gerstein, Politico)
CREW Releases Third Annual Most Corrupt Members of Congress Report (Citizens for Responsibility and Ethics in Washington)
Trump Picks Former Congresswoman and Air Force Veteran Heather Wilson as Air Force Secretary (by Dan Lamothe, Washington Post)
This is Heather Wilson: Her Private Life in the Private Sector (by Justin Horwath, Santa Fe Reporter)
Heather Wilson 2011 Financial Disclosure Statement (United States Senate)