Secretary of Housing and Urban Development: Who Is Ben Carson?
Tuesday, January 24, 2017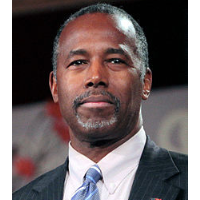 Ben Carson (photo: Wikipedia)
Dr. Ben Carson, a renowned neurosurgeon and defeated presidential candidate who has no background in housing issues, was nominated by President Donald Trump to be secretary of Housing and Urban Development (HUD). He was confirmed on March 2, 2017, with six Democrats and one independent voting along with the Senate's Republican majority.
Carson was born September 18, 1951, in Detroit, Michigan, to Sonya and Robert Carson. Carson's parents separated when he was eight years old and he went to live with his mother in Boston. But the family moved back to Detroit when Carson was ten. Carson later recounted how his mother restricted him and his brother from watching television and required them to write book reports.
Carson attended Southwestern High School in Detroit and graduated in 1969. He wrote in his 1990 autobiography, Gifted Hands: The Ben Carson Story, that he had a bad temper in junior high and high school and told of incidents of violence, including punching a boy and stabbing another. The stabbing victim was said to have been saved, according to Carson, when his knife hit the boy's belt buckle instead of his belly. Carson said he was transformed by God from a violent youth to a composed adult.
The problem with this story is that no one recalls Carson being violent during his teen years. He is remembered by his schoolmates as being quiet. "He got through his day trying not to be noticed," Robert Collier told CNN. "I remember him having a pocket saver. He had thick glasses. He was skinny and unremarkable."
That wasn't the only questionable story Carson told of his high school years. He also said he'd been offered scholarships to Michigan and the U.S. Military Academy at West Point. Neither has a record of offering such a scholarship and in fact, West Point has no record of Carson applying for admission. Nor does it even offer scholarships; all cadets receive free education in return for a service obligation after graduation.
Nonetheless, Carson did well enough in high school to receive a full scholarship to Yale, where he graduated with a degree in psychology in 1973. He returned to his home state to attend medical school at the University of Michigan, and graduated in 1977.
Carson then left Michigan to do his internship at Johns Hopkins University Hospital in Baltimore and remained there for a residency in neurosurgery. Except for a post-residency year at Sir Charles Gairdner Hospital in Australia, all of Carson's medical career was spent at Johns Hopkins.
In 1984, Carson was named chief of pediatric neurosurgery. Carson made a name for himself in 1987 when he was part of a 70-member team that separated conjoined twins from Germany who were joined at the skull. Since they had separate brains, they were considered good candidates for the pioneering surgery. The twins were successfully separated, but had severe neurological problems afterward. However, Carson repeated the surgery on another pair of conjoined twins ten years later, and the two came out of the operation with no problems. Other such surgeries by Carson resulted in mixed outcomes. Carson also helped repopularize hemispherectomies, or removing half a patient's brain, to control seizures and saw a great deal of success with the procedures.
While Carson was practicing at Johns Hopkins, in 2004 he began a relationship with Mannatech, a dietary supplement company. He spoke at company events and credited their products for curing his prostate cancer, for which he had surgery in 2002. The company in 2009 settled a suit brought by the Texas attorney general's office for claims that their product could cure autism and cancer. Mannatech paid $7 million in the settlement. Carson continued his relationship with the company, which he later brushed off—"I did a couple speeches for them," he said during one of the presidential primary debates—until 2014.
Carson made his mark in the political arena in February 2013, when he was the keynote speaker at the National Prayer Breakfast. Carson criticized President Barack Obama, who was sitting just a few feet from Carson on the dais, for his healthcare policies. Carson called for establishing Health Savings Accounts instead of promoting insurance. In a subsequent speech, Carson compared the Affordable Care Act to slavery.
Carson had made his name in conservative politics and, when he retired from medicine in July 2013, he went to work for Fox News as a commentator, remaining there until the following year.
Carson announced his candidacy for president in May 2015. Not long afterward, he took on the agency that he would eventually run. In July 2015, Carson wrote in an op-ed for The Washington Times that newly instituted HUD rules requiring the department to affirmatively promote fair housing, including mandating that some public housing be put in wealthier areas, would make housing problems for the poor worse instead of better. He called the policy "government-engineered attempts to legislate racial equality."
Carson did well in polls during the fall of 2015, and he raised lots of money, but his standing began to slip after policy and other missteps. Some of his positions were a 10% flat tax based on the Biblical reference to tithing; a balanced-budget amendment to the Constitution; that being gay could be "cured"; that Obama was a "psychopath"; the Holocaust happened because of gun control; and that the Egyptian pyramids were built as grain-storage facilities. His knowledge of foreign policy was also woefully inadequate.
After the Super Tuesday primaries in March 2016, Carson suspended his candidacy and came out almost immediately for Trump and was one of Trump's chief surrogates on the campaign trail. After Trump's election, Carson at first was reluctant to be appointed to a cabinet post. His friend and business manager Armstrong Williams said, "Dr. Carson feels he has no government experience; he's never run a federal agency."
But Carson was nominated in December to run the $47 billion Department of Housing and Urban Affairs. When questioned by Sen. Elizabeth Warren (D-Massachusetts) during his confirmation hearing, Carson refused to say that no HUD money would be funneled into Trump's businesses. The majority Republicans, on the other hand, lobbed up softballs for Carson. For instance, Sen. Thom Tillis of North Carolina asked Carson what government could do for those getting assistance. "Get them off of it," Carson replied.
Carson and his wife, Candy, were married in 1975. They have three children: Rhoeyce, Murray and Ben Jr.
-Steve Straehley
To Learn More:
Trump Chooses Ben Carson to Lead HUD (by Trip Gabriel, New York Times)
Ben Carson Admits That His Campaign Is Over (by David A. Graham, The Atlantic)
A Tale of Two Carsons (by Scott Glover and Maeve Reston, CNN)
Ben Carson's Greatest Hits (by Michael A. Cohen, Boston Globe)
Ben Carson Had Extensive Relationship to Dietary Supplement Company Despite Denial (by Chip Grabow, CNN)
Experimenting With Failed Socialism Again (by Ben S. Carson, Washington Times)
Ben Carson Knows Nothing (by Jamelle Bouie, Slate)