Secretary of Agriculture: Who Is Sonny Perdue?
Tuesday, February 21, 2017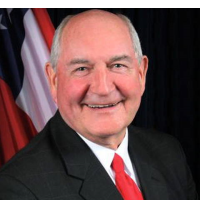 Sonny Perdue
Donald Trump's choice to lead the US Department of Agriculture, an agency of nearly 100,000 employees and an annual budget of about $155 million, is a veterinarian who grew up on a farm and has made a fortune in agribusiness. Unlike some of Trump's nominees, George Ervin "Sonny" Purdue III has a strong grasp on the work of the department he seeks to lead. The form that grasp takes remains to be seen. While Perdue was governor of Georgia, the state food safety budget was slashed by 29%.
Purdue was born December 20, 1946, to George Ervin Perdue, Jr., a farmer, and Ophie Viola (Holt), a teacher, in Perry, Georgia, then a town of about 2,500. He grew up and still resides in Bonaire, an unincorporated area between Perry and Warner Robins. Known as Sonny since childhood, Perdue prefers that name, even signing official documents as "Sonny Perdue." Perdue played quarterback at Warner Robins High School and was a walk-on at the University of Georgia, where in 1971 he earned his Doctor of Veterinary Medicine (DVM).
Perdue worked as a veterinarian before owning some businesses in grain trading and trucking. One of his biggest companies, Houston Fertilizer and Grain, sells fertilizer and seed and buys crops to sell to big distributors. Perdue also engaged in real estate speculation, and in 2011 he founded a global agribusiness trading company – Perdue Partners LLC.
After serving on the Houston County Planning and Zoning Board in the 1980s, Perdue won a seat in 1990 in the Georgia State Senate as a Democrat. After rising to Senate President pro-tem, in April 1998 Perdue switched parties and became a Republican.
Perdue abandoned his state senate seat in 2001 to launch a campaign against incumbent Democratic Gov. Roy Barnes. Perdue was helped by backlash among many white Georgians, who resented Barnes' move to replace the Georgia state flag, which had included an exact replica of the Confederate battle flag since 1956. In a major upset, Perdue beat Barnes 51%-46% to become Georgia's first Republican governor since Reconstruction in 1872.
As Governor, Perdue insisted that Georgia voters should decide the flag issue, and although the new flag lacks the Confederate battle flag elements, it was nevertheless clearly inspired by the Confederate First National flag, the Stars and Bars. Perdue also referred to evolution as "academic theory" and backed a bill requiring 24-hour waiting periods for women seeking abortions. In 2006, Perdue easily defeated Democratic Lieutenant Governor Mark Taylor to win re-election.
As Governor, Perdue pursued a pro-business agenda, but focused himself on government efficiency rather than ideological battles. In 2009, he signed a bill that pleased agribusiness leaders by ensuring "that no local government can adopt any regulation of crop management or animal husbandry practices." His business dealings raise serious ethical concerns. Unlike previous governors, Perdue refused to put his business holdings in a blind trust, and then engaged in real estate transactions that critics called conflicts of interest.
The Atlanta Journal-Constitution reported in 2006 that Perdue paid $2 million for land near Disney World to a developer he'd put on Georgia's economic development board. Soon thereafter, Perdue got the legislature to pass a bill with a backdated provision saving him about $100,000 in capital gains taxes on the land sale that raised the money for the Disney deal. During his subsequent re-election campaign, Perdue pretended he didn't know he would benefit from the tax break.
Other peccadillos included the time in 2003 when Perdue was accused of flying a state helicopter without a license and his decision to lead a November 2007 public prayer service on the steps of the state capitol to beseech for an end to a long drought.
After serving the legal limit of two terms as Georgia's governor, Perdue retuned as a managing member of AGrowStar, his grain shipment and storage business. Also, with his cousin, David, he co-founded Perdue Partners, which specializes in facilitating the export of U.S. food and cosmetic products.
He is neither related to nor affiliated with the food company Perdue or the poultry producer Perdue Farms.
Perdue and his wife, Mary (Ruff), were married in 1972. They have four children, fourteen grandchildren, and have also served as foster parents for many children. Perdue's cousin, David Perdue, a former Dollar General CEO, was elected to the U.S. Senate in 2014.
-Matt Bewig
To Learn More:
Trump picks Sonny Perdue for Agriculture Secretary (by Chris Moody and John Wagner, Washington Post)
Sonny Perdue Is Trump's Choice for Agriculture Secretary (by Julie Hirschfeld Davis and Maggie Haberman, New York Times)
Sonny Perdue: from Little League to the Big Leagues (by Craig Schneider and James Salzer, Atlanta Journal-Constitution)
Sonny Perdue won't Offer much Promise for the Future of our Food System (by Jaydee Hanson, The Hill)
Sonny Perdue: A Dangerous, Regressive Choice (by Shelby Steuart, Better Georgia)