Science Museums, Some Backed by Big Oil, Take Evasive Approach to Climate Change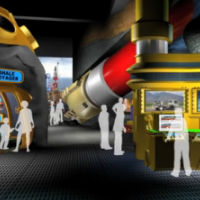 Fracking exhibit at Perot Museum (graphic: Perot Museum of Nature and Science)
With significant funding from oil companies, the city of Dallas established a new science museum two years ago that has ditched exhibits discussing the relationship between fossil fuels and climate change.
The Perot Museum of Nature and Science opened its doors in 2012 after raising $185 million, including contributions from Exxon and Chief Oil & Gas.
Among the exhibits developed for visitors was a "Climate Change" panel that featured the following information:
"Volcanic eruptions and burning fossil fuels increase the amount of carbon dioxide and other heat-trapping gases in the atmosphere. This warms the Earth and can cause sea levels to rise and climates to change. Humans have altered Earth's climate by burning coal and other fossil fuels that release carbon dioxide."
The display never saw the light of day. Museum officials have denied any connection between the decision to scrap the exhibit and the benefactors from the oil and gas industry. Instead, they say, the display was just never installed before the museum opened, an oversight museum experts say is very rare.
Instead, visitors can enjoy the sights of humongous rotating drill bits for petroleum development and virtual reality simulations of hydraulic fracturing.
"Some [of the museum's] choices are scientifically questionable," James S. Russell wrote last year for Bloomberg. "In displays on water and weather I could find no consideration of climate change — the defining natural-science challenge of our time."
One museum board member—and natural gas executive—said there doesn't need to be a permanent exhibit on climate change. "Climate's always changing, and always has," Forrest Hoglund told the Dallas Morning News. "So there's a lot of information out there and a lot of misinformation."
Other museums admit that they try to dodge the subject. "We try to avoid saying things that are not necessary to be said," Carolyn Sumners, vice president for astronomy and the physical sciences at the Houston Museum of Natural Science, told the Morning News. That museum uses the phrase "global warming" only in a historical setting, such as describing what took place during the prehistoric era.
-Noel Brinkerhoff, Steve Straehley
To Learn More:
Texas Museum Removes Exhibit On Climate Change, Keeps Drill Bits And Fracking Simulator (by Carolyn Cox, The Mary Sue)
Museums Tiptoe around Climate Change (by Anna Kuchment, Dallas Morning News)
Dinosaurs, Bones Cavort in $185 Million Science Palace (by James Russell, Bloomberg)
Science Museums Celebrate the Wonders of…Fracking?! (by Josh Harkinson, Mother Jones)