Saudi Arabia's Ambassador to the United States: Who Is Prince Khalid bin Salman?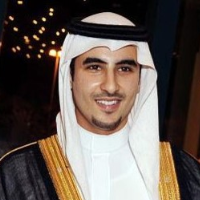 Prince Khalid bin Salman
On April 22, 2017, King Salman of Saudi Arabia appointed one of his sons, Prince Khalid bin Salman, to represent his country in the United States.
Born in 1988, Khalid bin Salman bin Abdulaziz, formally known as Khalid bin Salman bin Abd al-aziz al-Saud, has a background not in diplomacy, but in aviation. He earned a B.S. in aviation science at the King Faisal Aviation Academy in Riyadh, Saudi Arabia. He took primary U.S. Air Force pilot training in 2009 at Columbus Air Force Base in Mississippi, and then qualified to fly F-15 fighters. In 2014, Khalid flew Royal Saudi Air Force missions against ISIS targets and in Saudi Arabia's ongoing war in Yemen—which were trumpeted by the government—before an injured back took him out of the cockpit.
Khalid then worked as a civilian adviser to Saudi Arabia's Ministry of Defense before leaving for Washington in 2016. Until being named ambassador, Khalid served as an adviser at the embassy as he prepared to take over.
Khalid is a full brother to Deputy Crown Prince Mohammed bin Salman his nation's minister of defense. Khalid's appointment is seen as a way of establishing a high-level personal relationship between the Saudi ruler and U.S. President Donald Trump. "He is being seen as a modern-day version of Bandar Bin Sultan, who also trained as a fighter pilot before dominating the U.S.-Saudi relationship for more than two decades as ambassador in Washington," Washington Institute fellows Lori Plotkin Boghardt and Simon Henderson wrote. Prince Bandar had close relations with the White House under President George W. Bush.
Joseph Bahout, a visiting research scholar at the Carnegie Endowment for International Peace, told Arab News that "the age and familial links of the new envoy should also be a gate for him to access more directly the Trump inner circle, that of his family, sons, daughter, and more importantly the influential son-in-law [Jared Kushner]."
-Steve Straehley
To Learn More:
Saudi's King Salman Appoints Air Force Pilot Son as Ambassador to U.S. (by Taimur Khan, The National)
Prince Khalid Bin Salman: From a Fighter Pilot to Diplomat (Saudi Gazette)
Saudi King Names Son as U.S. Envoy as Ties Boosted With Trump (Associated Press)