Republican Governors Association Inadvertently Reveals Names of Secret Corporate Donors
Friday, September 26, 2014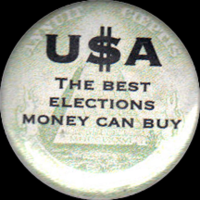 (graphic: Peacemonger.org)
It is no secret that big business has long been an ally of the Republican Party. But what has been a secret is which corporations have supported the party's gubernatorial campaign operation. Until this week.
A computer mistake by the Republican Governors Association (RGA) made it possible for a watchdog group to access the RGA's records, and in turn expose a corporate who's-who list of big-time donors. The revelations by the Citizens for Responsibility and Ethics in Washington (CREW) revealed those companies backing the Republican Governors Public Policy Committee, a 501(c)(4) organization that doesn't have to disclose its funding sources to the Internal Revenue Service.
CREW let it be known that Aetna, Coca-Cola, Exxon Mobil, Microsoft, Pfizer, UnitedHealth Group, Walmart and Koch Companies Public Sector (the lobbying sector of Koch Industries, the Koch brothers' corporate empire) had given the committee at least $250,000 apiece. Businesses including Aflac, Blue Cross Blue Shield, Comcast, Hewlett-Packard, Novartis, Shell Oil, Verizon Communications and Walgreen had each contributed $100,000.
"It's not that you don't suspect this, but here you see these companies paying the governors for access," Melanie Sloan, the executive director of CREW, told The New York Times. "Americans all think it's pay-to-play politics. This is what confirms it."
Campaign finance reformers said the news demonstrated the problem with allowing corporations to pour millions of dollars into elections without more transparency rules in place. "This is a classic example of how corporations are trying to use secret money, hidden from the American people, to buy influence, and how the governors association is selling it," Fred Wertheimer, president of Democracy 21, a nonpartisan reform group, told the Times.
Instead of attempting to defend the huge contributions, the RGA blasted the reporting by CREW, claiming the document release was motivated by a partisan desire to help the Democratic Party.
-Noel Brinkerhoff
To Learn More:
G.O.P. Error Reveals Donors and the Price of Access (by Jonathan Weisman, New York Times)
Republican Documents Show Access to Governors for Donors (by William Selway, Bloomberg)
RGPPC Education Symposium Schedule (pdf)
Mystery Group Gave Biggest Corporate Campaign Donation (by Noel Brinkerhoff, AllGov)