Qatar's Ambassador to the United States: Who Is Meshal bin Hamad Al-Thani?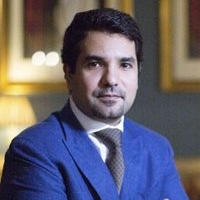 Meshal bin Hamad Al-Thani
Meshal bin Hamad Al-Thani, a longtime member of Qatar's foreign service and a member of the ruling Al-Thani family, presented his credentials as his country's ambassador to the United States on April 24, 2017. He is also known as Mishaal bin Hamad bin Mohamed al-Thani.
Al-Thani joined Qatar's Ministry of Foreign Affairs in May 1997, serving in its Department of European and American Affairs. He took up his first official post in the United States in August of the following year as a member of his country's mission to the United Nations in New York. In October 2000, he moved to Washington to work in Qatar's embassy.
Al-Thani went to Belgium in November 2004 as Qatar's liaison to NATO, based in Brussels. In October 2007, he was made ambassador to Belgium and Luxembourg and led Qatar's mission to the European Union. He returned to the United States in July 2011 as Qatar's representative to the UN.
Al-Thani then went to Paris as ambassador to France in November 2013, serving until returning to Washington in December 2016 to take over the embassy there. While in France, Al-Thani made the news when it was revealed that, on June 1, 2014, at the airport in Nice, thieves stole a suitcase belonging to Al-Thani and his wife containing $260,000 worth of jewels.
The timing of Al-Thani's arrival in Washington could have been better. In June 2017, not long after officially taking over as ambassador, Saudi Arabia, the United Arab Emirates, Egypt and Bahrain moved to sever relations with Qatar, supposedly for financing terrorism. U.S. President Donald Trump began tweeting his support for the action, leaving Al-Thani, whose country hosts the Al Udeid Air Base, the largest U.S. military base in the Middle East, puzzled.
"We were surprised," Al-Thani told The Daily Beast. "No one approached us directly and said, 'Look, we have problems with this and this and this,'" he said. Trump's tweets came shortly after praising Qatar during a meeting in Riyadh, Saudi Arabia—calling the country "a crucial strategic partner"—that included Qatari leader Emir Sheikh Tamim Bin Hamad Al-Thani.
"It's unfortunate to see these tweets," Ambassador Al-Thani said. "We have close coordination with the United States. They know our efforts to combat financial terrorism and terrorism."
Al-Thani and his wife, Eva, have three children. He earned a master's degree in international relations in 2004 from American University in Washington, D.C.
-Steve Straehley
To Learn More:
Qatar Ambassador to Trump: What's With the Hate Tweets? (by Kimberly Dozier, Daily Beast)