Privacy Groups Withdraw from Commerce Dept. Facial Recognition Meetings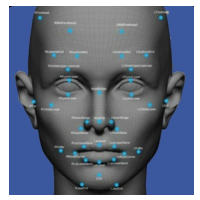 (graphic: Electronic Frontier Foundation)
Federal talks about limiting the use of facial recognition technology have become one-sided now that privacy advocates have walked out of the meetings.
Nine groups representing consumers and others participated in the National Telecommunications Information Administration's (NTIA) effort for more than a year to create codes of conduct for companies to follow when utilizing facial recognition software. Representatives of those organizations grew frustrated, however, over the lack of compromise by industry leaders, prompting them to withdraw from the talks.
The nine groups are the Electronic Frontier Foundation (EFF), the American Civil Liberties Union, Center for Democracy & Technology, Center for Digital Democracy, Consumer Action, Consumer Federation of America, Consumer Watchdog, Common Sense Media, and the Center on Privacy & Technology.
"After 16 months of active engagement in the process, we decided this week it was no longer an effective use of our resources to continue in a process where companies wouldn't even agree to the most modest measures to protect privacy," EFF's Jennifer Lynch wrote.
A joint statement released by the nine groups reads:
"We believe that people have a fundamental right to privacy. People have the right to control who gets their sensitive information, and how that information is shared. And there is no question that biometric information is extremely sensitive. You can change your password and your credit card number; you cannot change your fingerprints or the precise dimensions of your face. Through facial recognition, these immutable, physical facts can be used to identify you, remotely and in secret, without any recourse."
EFF and the others have been concerned how the federal government and state and local law enforcement agencies develop of face recognition databases. Particularly, they would like companies to adopt the European model of requiring opt-in for commercial face recognition systems.
Two states, Illinois and Texas, already require companies to get consumers' permission before employing the technology on them.
"However, the companies participating in the NTIA process would not even agree that an opt-in system was appropriate in the most extreme scenario," Lynch said. "This position is not only at odds with consumer expectations, current industry practices, and existing state law, it calls into question whether companies—on their own—will ever agree to any limitations on their ability to use technology to track consumers."
Facebook recently released its Moments mobile photo app, which will tag the faces of those in the photos. Users must go into the Facebook settings and turn off the feature if they don't want to be identified.
In Britain, all the attendees at the Download music festival last weekend in Leicestershire were subject to being captured by facial recognition technology. "It's one thing to pay good money to think you're going to enjoy yourself at a festival," Renate Samson of Big Brother Watch told Noisey, "to then unknowingly find that your face is being scanned using biometric technology and compared with a database of people in custody from across Europe takes the edge off the fun."
-Noel Brinkerhoff
To Learn More:
EFF and Eight Other Privacy Organizations Back Out of NTIA Face Recognition Multi-Stakeholder Process (by Jennifer Lynch, Electronic Frontier Foundation)
Privacy Groups Leave over Dispute on Facial Recognition Software (by Elizabeth Weise, USA Today)
June 11, 2015 Privacy Multistakeholder Meeting Facial Recognition Technology (Department of Commerce)
The Police Are Scanning the Faces of Every Single Person at Download (by Joe Zadeh, Noisey)
Facial Recognition Software Creeps Closer to Total Accuracy (by Noel Brinkerhoff, AllGov)