Polluting Drinking Water and Lobbying go Hand in Hand
Wednesday, March 04, 2015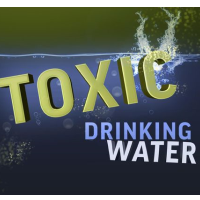 (AP graphic)
Companies that break the law by polluting America's waterways tend to spend large amounts of money on lobbying politicians, according to a new environmental report.
Environment America says in its report Polluting Politics: Political Spending by Companies Dumping Toxics in our Waters that the 10 biggest corporate water polluters in the U.S. spent $53 million on lobbying and nearly $10 million on campaign contributions.
These companies also dumped 100 million pounds of toxics in public waterways, according to the report.
"As it turns out, the same companies that are polluting our waterways with toxic chemicals are also polluting our politics with their spending," Ally Fields, the report's author and a clean water advocate at Environment America, said in a press release.
The No. 1 polluter in the report is AK Steel Holding Corporation, which discharged 19,088,128 pounds of toxics into rivers, lakes and streams during 2012. It spent $739,752 on lobbying during 2014.
The biggest spender on lobbying was the No. 6 polluter: Koch Industries, which spent $13.8 million on lobbying and was responsible for 6,657,138 pounds of toxics dumped into waterways. Similarly, chemical giant DuPont spent $9.3 million on lobbying while dumping 5,500,000 pounds of toxics.
Second on the list of polluters is Tyson Foods, with 18,446,749 pounds of toxic waste dumped and $1.16 million spent on lobbying.
The third biggest water polluter turned out to be the Department of Defense, which dumped 10,868,190 pounds. The Pentagon does not officially spend money on lobbying, although it certainly makes its opinion known to lawmakers.
No. 4 is Cargill, which loaded waterways with 10,600,000 pounds of toxics and spent $1.3 million on lobbying.
These numbers don't include money spent by industry groups such as the American Petroleum Institute that spend more money, often with former lawmakers lobbying their old colleagues.
-Noel Brinkerhoff
To Learn More:
Polluting Politics: Koch Industries and Others Spend Millions to Gut Clean Water Act Protections (by Anastasia Pantsios, EcoWatch)
Polluting Politics (Environment America) (pdf)