Pentagon Used Christian Charity Group as Spies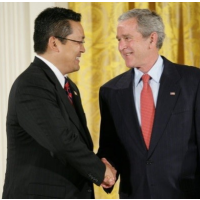 Kay Hiramine receives the President's Volunteer Service Award from George W. Bush in 2007 (photo: The White House)
For nearly a decade, the U.S. Defense Department secretly funneled millions of dollars to a Christian charity to collaborate on a spy operation in North Korea, according to an investigation by The Intercept.
Given its concern over North Korea's nuclear weapons program, the Pentagon decided it needed to smuggle surveillance equipment into the country, including communications gear and monitoring devices that could measure nuclear anomalies. To accomplish this, a highly classified operation was launched that utilized the services of a Christian NGO (non-governmental organization), the Humanitarian International Services Group (HISG).
In 2004, Deputy Undersecretary of Defense for Intelligence Lt. Gen William Boykin began a collaboration with the head of HISG, Kay Hiramine. The plan was to smuggle the equipment inside the charity group's shipments of donated used clothing destined for North Korea. But before proceeding, they first tested the method by smuggling bibles inside the shipments, which would have sounded alarms if discovered by North Korean officials. The Pentagon figured if the bibles weren't found, the spying equipment wouldn't be either.
"We sent the bibles in as a test run," a former senior Pentagon official told The Intercept's Matthew Cole. "They got through without the North Koreans discovering them."
The Defense Department set up an elaborate network of organizations to channel funding to HISG for its work. To protect its cover, the Pentagon even sent money to unrelated charities.
"Kay never talked about where we got our funding from," Tom Jennings, who worked as HISG's Asia program director for six years, told The Intercept. "And I never felt that I was supposed to ask about it." Jennings said he didn't know he was working for a Pentagon front organization and expressed concern that the humanitarian work he and his group had done would be tainted because of its funding.
Given that HISG operated in more than 30 countries, the Pentagon viewed the North Korea operation as a pilot project that could be replicated elsewhere around the world, according to one former military official interviewed by Cole. That official did not say, however, if HISG was in fact used as a front for U.S. spying operations in countries other than North Korea.
"It is unacceptable that the Pentagon or any other U.S. agency use nonprofits for intelligence gathering," Sam Worthington, president of InterAction, an association of nearly 200 American NGOs, told The Intercept. "It is a violation of the basic trust between the U.S. government and its civic sector."
U.S. Rep. Jan Schakowsky (D-Illinois), who served on the House Intelligence Committee from 2007 until this year, said that she and her committee members had been kept in the dark about the program. "If true, to use unwitting aid workers on behalf of an intelligence operation, people who genuinely do humanitarian work, to turn their efforts into intel collection is unacceptable," she told The Intercept. "Now we have people who have been hired to do some good work and become unwitting accomplices to an intelligence mission? They can face all kinds of retaliation. It is completely unacceptable."
The program spanned both the George W. Bush and Barack Obama administrations, and was finally shut down in 2013. Boykin, who is retired from the Army, is now a conservative Christian activist.
-Danny Biederman, Steve Straehley
To Learn More:
The Pentagon's Missionary Spies (by Matthew Cole, The Intercept)