Pennsylvania Judge, Citing 1776 Law, Orders Fracking Compensation Disclosure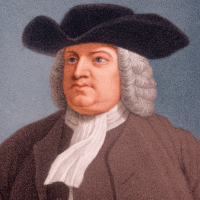 William Penn
A Pennsylvania judge surprised the corporate world by ordering the unsealing of a settlement between a family and a fracking company, saying businesses do not enjoy the right of privacy under the state's constitution.
Judge Debbie O'Dell Seneca of the Washington County Court of Common Pleas ruled last month that the details of a $750,000 payment by Texas-based Range Resources to Stephanie and Chris Hallowich for potential harm to their children must be disclosed to the public.
The decision will enable newspapers, which had sued to have the settlement unsealed, as well as environmentalists and community rights advocates, to examine the court case's health issues and causes.
Seneca's decision represented a major blow to fracking companies, which have relied on secrecy agreements with landowners to hide the environmental and health impacts of natural gas drilling.
The judge cited the text of the 1776 Pennsylvania constitution and other documents in concluding: "Nothing in that jurisprudence indicates that that right [of privacy] is available to business entities."
She added that "The plain meaning of 'people' is the living, breathing humans of this Commonwealth" and that "it is axiomatic that corporations, companies, and partnerships have 'no spiritual nature,' 'feelings,' 'intellect,' 'beliefs,' 'thoughts,' 'emotions,' or 'sensations,' because they do not exist in the manner that humankind exists."
Seneca also quoted the 17th century writings of William Penn, the founder of Pennsylvania, noting that "It is highly improbable that Penn founded Pennsylvania with an eye towards securing liberty for business entities or to grant them a right of privacy."
Seneca wrote that "our courts have never extended the constitutional right of privacy to a corporation, company, or partnership" and that the U.S. Constitution's 14th Amendment "use of the word 'person' that makes its protections applicable to business entities" does not apply to Pennsylvania's constitution. "The exact opposite is derived from plan language of Article X of the Constitution of the Commonwealth of Pennsylvania."
The defendants, Range Resources, MarkWest Energy Partners and Williams Gas/Laurel Mountain Midstream Partners, were given 30 days to appeal the decision.
-Noel Brinkerhoff, David Wallechinsky
To Learn More:
Pennsylvania Court Deals Blow to Secrecy-Obsessed Fracking Industry: Corporations Not The Same As Persons With Privacy Rights (by Steven Rosenfeld, AlterNet)
Washington County Judge Orders Marcellus Shale Development Settlement Records Unsealed (by Paula Reed Ward, Pittsburgh Post-Gazette)
Hallowich v. Range Resources Corp. (Court of Common Pleas, Washington County, Pennsylvania) (pdf)
Chesapeake Energy Gains Permission to Frack One Mile from Nuclear Power Station (by Matt Bewig, AllGov)
Court Kicks Pennsylvania "Pig in the Parlor" Out of the Fracking Game (by Matt Bewig, AllGov)