Oregon Governor to Sign most Inclusive Voter Registration Law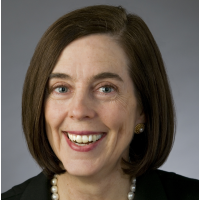 Gov. Kate Brown
While many Republican-run states are trying to restrict the number of people who vote, Oregon is going in the opposite direction.
Oregon Governor Kate Brown has promised to sign off on a new standard for voter registration that links motor vehicle records with voting rolls.
The legislation creates a system that will make it easier than ever for 300,000 to 400,000 potential voters to become actual voters. It authorizes the Driver and Motor Vehicle Services Division to electronically transfer motorists' information to the office of the secretary of state, which keeps track of voter rolls.
"This legislation is an important paradigm shift on voter registration," Wendy Weiser, director of the Democracy Program at the Brennan Center, said. "Where the government has the tools to ensure that eligible voters are accurately registered, it should do so.
"Oregon's new law harnesses modern technology and reliable information to make the voting process more convenient and accessible. It will add hundreds of thousands of eligible voters to the rolls in its first year, cutting the rate of unregistered citizens in half. This is a bold new standard that other states should work toward as a model for reform."
Brown supported HB 2177 as secretary of state, a position she held until Governor John Kitzhaber resigned last month. She has promised to sign the bill as soon as it reaches her desk. "Our goal is to make it as easy as possible for eligible voters to participate in our elections. As secretary of state, the motor voter bill was my top priority, and I look forward to signing this bill into law," Brown said.
The bill, according to the Brennan Center, also will:
Automatically update voter registration records when individuals change their address or name with the DMV.
Allow registration only after voters confirm their citizenship or other records verify their status.
Allow anyone preferring not to register to do so.
-Noel Brinkerhoff
To Learn More:
Oregon Approves Breakthrough Voter Registration Law (Brennan Center for Justice)
Senate Clears Automatic Voter Registration (by Peter Wong, Portland Tribune)
House Bill 2177 (Oregon Legislative Assembly)
Voting Laws Roundup 2014 (Brennan Center for Justice)