Obama's NSA Refused to Release 4-Second Snippet of Secret Nixon Tape on Vietnam Talks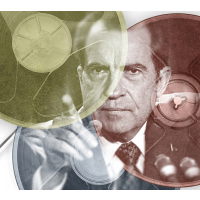 (photo: Charles Tasnadi, AP)
The National Security Agency (NSA) has refused to release four seconds of a recording made in the Richard Nixon White House more than 40 years ago, claiming the disclosure would expose a reference to Vietnam War peace talks and American government spying capabilities of the time.
The four-second segment, recorded on January 12, 1973 by Nixon chief of staff H.R. "Bob" Haldeman, has been sought by researcher Ken Hughes of the University of Virginia, who has studied the Nixon-era tapes. It contains information related to negotiations between the U.S. government and the government of South Vietnam connected to the war.
But the NSA rejected Hughes' request, claiming the brief recording "would reveal information that would impair U.S. cryptologic systems or activities," NSA spokeswoman Vanee Vines told Bloomberg in an email.
Bloomberg was also told by the National Archives that the segment must be kept a secret because it could reveal "the identity of a confidential human source, a human intelligence source" or a "relationship with an intelligence or security agency of a foreign government or international organization."
Bloomberg's Anthony Capaccio reported: "Historians say the redacted segment probably refers to a threat by former President Lyndon Johnson to expose an illegal attempt by Nixon's presidential campaign to derail the 1968 Paris peace talks on ending the Vietnam War."
-Noel Brinkerhoff
To Learn More:
Classified: Why Is Obama Keeping Secret Four Seconds of a Nixon-Era Tape? (by Anthony Capaccio, Bloomberg)
Nixon White House Tapes (Wikipedia)
New Technology Takes Aim at Notorious Watergate Tape Gap (by Noel Brinkerhoff, AllGov)