Obama Has Overseen the Smallest Reduction in U.S. Nuclear Stockpile of Any Post-Cold War President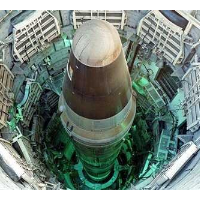 Nuclear missile silo in North Dakota (photo: Wikipedia)
By William J. Broad, New York Times
A new census of the American nuclear arsenal shows that the Obama administration last year dismantled its smallest number of warheads since taking office.
The new figures, released by the Pentagon, also highlight a trend — that the current administration has reduced the nuclear stockpile less than any other post-Cold War presidency.
On Thursday, the Federation of American Scientists, a private group in Washington that strongly supports arms control, issued an analysis of the new figures on its Strategic Security blog. The annual Pentagon release did not appear to be linked to President Barack Obama's visit Friday to Hiroshima, Japan, which was destroyed by an American atomic bomb almost 71 years ago.
Still, the new figures and private analysis underscored the striking gap between Obama's soaring vision of a world without nuclear arms, which he laid out during the first months of his presidency, and the tough geopolitical and bureaucratic realities of actually getting rid of those weapons.
The lack of recent progress in both arms control and warhead dismantlement also seems to coincide with the administration's push for sweeping nuclear modernizations that include improved weapons, bombers, missiles and submarines. Those upgrades are estimated to cost up to $1 trillion over the next three decades.
The new census is an annual public release that the Pentagon has done in recent years detailing how many weapons remain in the nation's nuclear arsenal and how many retired weapons have been disassembled.
The census, which updates the numbers to include 2015, was posted this month on the Department of Defense's open government website. It noted that the figures were current through Sept. 30, 2015, the end of the government's fiscal year.
Supporters of Obama say the slowdowns are understandable given the rising level of hostility and intransigence of the Russian president, Vladimir Putin, as well as the inherent difficulties involved in arms control and complex technical projects.
The new figures show that in 2015 the Obama administration dismantled 109 warheads, the fewest of his presidency and down from a peak of 356 in 2009, his first year in office.
To Learn More:
US Nuclear Stockpile Numbers Published Enroute to Hiroshima (by Hans M. Kristensen, Federation of American Scientists)
Obama Budget Calls for Increase in Nuclear Stockpile Spending while Watchdogs Call for Cutbacks (by Noel Brinkerhoff, AllGov)
Obama Increases Nuclear Weapons Production and Research (by Noel Brinkerhoff, AllGov)
Nuclear Weapons are not Going Away…3,970 Still Deployed (by Noel Brinkerhoff and Steve Straehley, AllGov)
Pentagon Reverses Transparency on Size of U.S. Nuclear Stockpile (by Noel Brinkerhoff, AllGov)
Size of U.S. Nuclear Arsenal Revealed for First Time: Are 5,000 Bombs Enough? (by Noel Brinkerhoff, AllGov)