Obama Disgusts Human Rights Advocates by Calling Ethiopian Government "Democratically Elected"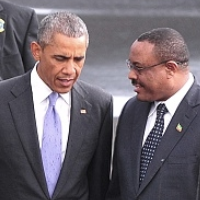 President Obama and Ethiopian Prime Minister Hailemariam Desalegn (photo: Siimon Maina, Getty Images/AFP)
President Barack Obama turned more than a few heads in the human rights community on Monday when he called the government of Ethiopia "democratically elected" during his visit to Africa's second largest country.
Not a single opposition party member currently holds a seat in Ethiopia's parliament, and human rights groups denounced the elections in May as a sham. Prior to those elections, the government made it difficult for opposition candidates to register, raise money and mobilize supporters, according to The New York Times.
"Peaceful protesters were denied permits, harassed and in some cases arrested. News organizations were shut down and reporters harassed, threatened or arrested," the Times' Peter Baker and Jacey Fortin reported. Additionally, Obama's own State Department reported that U.S. diplomats were prevented from observing the elections, saying it was "troubled" that opposition party observers were kept out of some locations.
And Obama's national security advisor, Susan E. Rice, told reporters only last week that the result of the election was not credible. "The prime minister of Ethiopia was just elected with 100 percent of the vote, which I think suggests, as we have stated in our public statements, some concern for the integrity of the electoral process," she said.
Human rights advocates were surprised, to say the least, by Obama's assessment of the government in Addis Ababa. "The recent election in Ethiopia was anything but a democratic one," Sarah Margon, the Washington director of Human Rights Watch, told the Times. "There may not have been widespread violence or blatant ballot box stuffing on election day," Margon said, but "the systematic repression of basic rights" made it "extremely unlikely that Ethiopians would feel safe enough to express themselves, particularly if that expression included criticism of the government."
Obama, who is the first sitting American president to visit Ethiopia, said at a joint news conference with Prime Minister Hailemariam Desalegn: "We are very mindful of Ethiopia's history, the hardships that this country has gone through."
"It has been relatively recently in which the Constitution that was formed, and elections put forward a democratically elected government." Obama added that "there is still more work to do, and I think the prime minister is the first to acknowledge that there is more work to do."
-Noel Brinkerhoff
To Learn More:
Obama Calls Ethiopian Government 'Democratically Elected' (by Peter Baker and Jacey Fortin, New York Times)
Obama Criticised For Calling Ethiopia's Government 'Democratically Elected' (by David Smith, The Guardian)
Ethiopia 2014 Human Rights Report (State Department) (pdf)