Obama Backs Bush on Limiting Protection of Polar Bears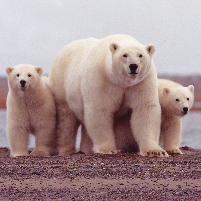 (photo: Susanne Miller/USFWS)
Much to the dismay of environmentalists, the Endangered Species Act (ESA) will not be employed by the Interior Department to protect the polar bear, whose habitat is rapidly disappearing as a result of global warming. The announcement by Interior Secretary Ken Salazar on Friday keeps the Obama administration in lockstep with the Bush presidency in maintaining the policy that the ESA should not be used to curb greenhouse gas emissions that are causing rising temperatures to melt away the polar ice cap, on which polar bears depend for their survival. Salazar admitted there is a problem, telling the media, "To see the polar bear's habitat melting and an iconic species threatened is an environmental tragedy of the modern age." But he insisted the solution resides in crafting new protections for polar bear habitats.
Environmentalists believe such an approach is ludicrous, given that the only way to preserve the bears' habitat is by tackling global warming head-on, and the ESA is just the tool to use, they argue. Several groups intend to file litigation to reverse the Interior decision.
Listed as threatened during the last year of the Bush administration, polar bears became the first species to be given protection primarily because of climate change. Scientists say if warming temperatures continue to erode polar ice at the current pace, three of the world's four major polar bear populations may be extinct by 2075.
Not everyone was unhappy with Salazar's decision. Republican Governor Sarah Palin of Alaska applauded the announcement, after her administration fought in 2008 to prevent the Interior Department's listing of the polar bears as threatened. "This is a clear victory for Alaska," Palin said.
-Neol Brinkerhoff