NSA Said to be Preparing for Future of Digital Warfare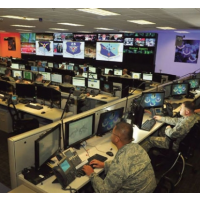 U.S. Cyber Command support operations in Texas (photo: William Belcher, U.S. Air Force)
The National Security Agency (NSA) primarily gathers volumes of information from domestic and foreign sources. But the NSA has a new mission—that of an online attack dog for the U.S. government when it wants to go after a foreign threat through electronic means.
Through NSA's Tailored Access Operations, the agency is developing an army of cyber warriors capable of unleashing all kinds of non-violent destruction on other countries, according to the German publication Spiegel. Using documents provided by NSA whistleblower Edward Snowden, Spiegel uncovered methods the agency uses in cyber warfare.
NSA hackers work on ways to "remotely degrade or destroy opponent computers, routers, servers and network enabled devices by attacking the hardware." The agency even advertised for interns for this group who would work on "developing an attacker's mindset."
Some of the hacking involves opening "persistent backdoors" into third- party computer systems and destroying portions of "a brand of servers that act as a backbone to many rival governments." The group even hacks into computers in friendly countries to find out what they've learned from spying on other nations.
The future of cyber warfare, still in its infant stages at the NSA, will mean paralyzing "computer networks and, by doing so, potentially all the infrastructure they control, including power and water supplies, factories, airports or the flow of money," Spiegel reported.
The NSA is taking the lead within the U.S. military, putting it on the potential frontlines of future conflicts. It is able to do so because its director also serves as commander of the U.S. Cyber Command, which is a formal part of American armed forces. The current NSA director, Admiral Michael Rogers, oversees an "army" of 40,000 specialists versed in digital spying and "destructive network attacks."
-Noel Brinkerhoff
To Learn More:
The Digital Arms Race: NSA Preps America for Future Battle (by Jacob Appelbaum, Aaron Gibson, Claudio Guarnieri, Andy Müller-Maguhn, Laura Poitras, Marcel Rosenbach, Leif Ryge, Hilmar Schmundt and Michael Sontheimer, Der Spiegel)
Snowden Documents Show NSA Can't Keep Its Eyes on Its Own Papers; Harvests Data from Other Surveillance Agencies (by Tim Cushing, Techdirt)
Computer Security Firm Accepted $10 Million Payoff to Give NSA Backdoor Access (by Noel Brinkerhoff, AllGov)
NSA Teamed with U.K. and Tech Companies to Override Global Internet Privacy (by Danny Biederman and Noel Brinkerhoff, AllGov)
Pentagon Classifies Cyber-Attack as Act of War (by Noel Brinkerhoff, AllGov)