News Photographers Protest Government Control of Photos of Obama
Saturday, November 23, 2013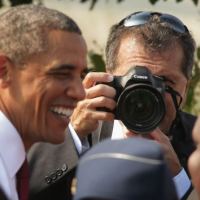 White House photographer Peter Souza (photo: Getty Images)
The Obama White House has been accused of using Soviet-style image control of the president by excluding media photographers from "private" events. The only available images from those events are those that are posted on social media websites by Obama's communications staff.
The increasing shutting out of press photographers has frustrated more than 30 news organizations, including the White House Correspondents' Association (WHCA), which sent a letter to Obama's press secretary, Jay Carney.
In the letter, the media outlets said the White House was duplicating the former Soviet Union's tactics of controlling what images of the nation's leader are released to the public.
"As surely as if they were placing a hand over a journalist's camera lens," the three-page letter said. "Officials in this administration are blocking the public from having an independent view of important functions of the executive branch of government."
While news photographers have been denied access to certain events, the chief White House photographer, Pete Souza, has captured images during "private" meetings between Obama and others. Those images are then uploaded to sites like Facebook, Flickr and Instagram, demonstrating that the events were not completely private.
Souza and his photos have 94,000 online followers.
"You are, in effect, replacing independent photojournalism with visual press releases," said the WHCA letter.
The White House responded by claiming it was not feasible to give photographers access to every event.
"We've taken advantage of new technology to give the American public even greater access to behind-the-scenes footage or photographs of the president doing his job," deputy spokesman Josh Earnest told White House correspondents.
"I understand why that is a source of some consternation to the people in this room," Earnest added. "But to the American public, that is a clear win."
News photographers have been banned from events like Obama meeting with former Secretary of State Hillary Rodham Clinton at an outdoor lunch, and his meeting with Israeli and Palestinian negotiators. In both cases, White House staff took their own photographs and posted them online.
"They're excluding photographers from events at the White House, which is a problem in and of itself," WHCA president Steve Thomma told The New York Times. "But now they're sending in their photographers and video crews and then releasing the photos and video. That sets up their own media operation."
Doug Mills, a Times photographer who has covered the White House since the Reagan administration, confronted Carney over the policy, comparing it to the Kremlin.
"I said, 'Jay, this is just like Tass,'" Mills said, referring to the Soviet state news agency. "It's like government-controlled use of the public image of the president."
-Noel Brinkerhoff
To Learn More:
Photographers Protest White House Restrictions (by Mark Landler, New York Times)
Reporters Accuse White House of Preventing the Public from 'Having an Independent View' (Agence France-Presse)