More than One Million Schoolchildren in U.S. are Homeless
Wednesday, January 23, 2013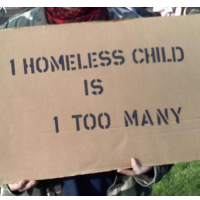 (photo: 360 education solutions)
Homelessness among schoolchildren has reached record levels in the United States, with more than one million without a home.
During the 2010-2011 school year, there were 1,065,794 homeless students in preschools and K-12 schools, according to the National Law Center on Homelessness & Poverty.
This marked the first time in history that public schools reported more than one million homeless children and youth.
Nationally, the total of homeless students increased 13% from the previous year (2009-2010). In 15 states, the increase was 20% or higher. Kentucky and Utah experienced a 47% jump, Michigan and West Virginia 38%, and Mississippi 35%.
The National Law Center on Homelessness & Poverty said the number of homeless children attending public schools has soared 57% since the beginning of the recession (2006-2007 school year).
-Noel Brinkerhoff
To Learn More:
One Million U.S. Students Homeless, New Data Show (National Law Center on Homelessness & Poverty)
Homeless Children in U.S. Younger than 7 Number 672,000 (by Noel Brinkerhoff, AllGov)