More than 3 Million Violent Crimes in U.S. go Unreported Every Year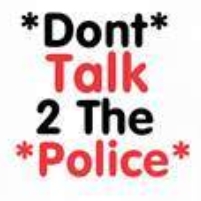 (graphic-killersonlineshop.bigcartel.com)
A new report from the
Bureau of Justice Statistics
(BJS) paints a picture of the more than three million violent crimes that go unreported in the United States every year. Based on survey responses for the years 2006 to 2010, the BJS report estimates that 52% of all violent crimes, or an annual average of 3.38 million incidents, go unreported every year, including 211,000 sexual assaults and 507,000 aggravated assaults. From 1994 to 2010, the percentage of serious violent crime—rape or sexual assault, robbery, or aggravated assault—that was not reported to police declined from 50% to 42%.
Why do so many violent crime victims fail to report the incident? Personal issues and concerns about the criminal justice system dominated the reasons, according to the report. Asked for their most important reason for not reporting, 52% gave personal reasons, including that they "dealt with it in another way/personal matter" (34%) and "not important enough to victim to report" (18%).
Concerns about the criminal justice system itself were most important to 39%, including those who believed that the police would not or could not help (16%) and those who feared reprisal or getting the offender in trouble (13%). The share of unreported violent crimes not reported for police-related reasons has increased over the years, driven by a jump in the share of victims who believe that the police would not think the crime was important enough to address, from 5% in 2005 to 12% in 2010. Those victims who said the police would be ineffective or inefficient went from 2% in 2005 to 4% in 2010, as did those who thought the police would be biased (from 1% in 2005 to 3% in 2010).
Those who named another reason or said there was no one most important reason totaled 18%.
Consistent with the importance of personal reasons to why victims did not report the crimes against them are data showing that among unreported intimate partner violent crimes, 38% went unreported because the victim was afraid of reprisal or getting the offender in trouble. Further, 62% of crimes perpetrated by someone the victim knew well went unreported to police, compared to 51% of victimizations committed by a stranger.
Bullying remains a big problem, according to the study data. About 76% of violent crimes that occurred at school were not reported to police, which is consistent with the findings that from 2006 to 2010, crimes against youth age 12 to 17 were more likely to go unreported than crimes against persons in other age categories.
-Matt Bewig
To Learn More: