More Americans Die from Shoveling Snow than from Ebola
Friday, November 21, 2014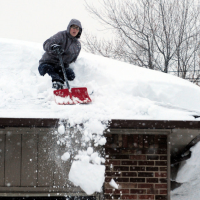 (photo: Gary Wiepert, AP)
At least three people have died in New York State from shoveling snow during the extreme storm that hit the region—a higher fatality count than the number of people who have died from Ebola in the U.S.
Once the storm in the Northeast ends, the media coverage of it will melt away. But the reporting frenzy over Ebola could continue indefinitely, especially since Dr. Martin Salia, who contracted the disease while treating patients in his native Sierra Leone, died earlier this week in Omaha.
The reality, however, is shoveling snow is a bigger health problem for Americans than the deadly virus that has ravaged parts of Western Africa. In fact, if this year is typical, about 100 people will die in the United States from trying to clear their driveways of snow.
That's according to a new study from Nationwide Children's Hospital that found 1,647 people died from cardiac-related injuries associated with shoveling snow from 1990 to 2006.
Dr. Barry Franklin, a cardiologist who has studied the hazardous effects of snow removal, told CNN the annual number of deaths might be closer to 200. His research shows shoveling snow can be more taxing on the heart than running on a treadmill.
"Combine this with cold air, which causes arteries to constrict and decrease blood supply, you have a perfect storm for a heart attack," he told CNN. Franklin also said that snow removal is so taxing that he recommends that it not be done by those older than 55, which might make some feel less guilty about making their kids shovel the sidewalk.
-Noel Brinkerhoff
To Learn More:
Why Do So Many People Die Shovelling Snow? (BBC News)
Buffalo Area Braces for more Snow (by Ray Sanchez, Jason Hanna and Steve Almasy, CNN)
Doctor Being Treated for Ebola in Omaha Dies (by Abby Goodnough and Tommy Trenchard, New York Times)
Risks of Snow Shoveling Highlighted in New Study (by Mikaela Conley, ABC News)