Mistakes by U.S. Air Force Personnel Caused Nuclear-Armed Missile Mishap
Saturday, January 23, 2016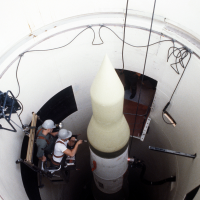 U.S. airmen work on Minuteman nuclear missile in underground launch silo (photo: Wikipedia)
WASHINGTON (Reuters) - Maintenance errors by three U.S. airmen damaged a nuclear-armed missile in its silo in Colorado in 2014, triggering an accident investigation, the Air Force said on Friday.
The accident occurred in May 2014, to a Minuteman III intercontinental ballistic missile assigned to the 90th Missile Wing in northern Colorado, the Air Force said in a statement.
The Associated Press first reported the incident.
The missile was damaged while the airmen were troubleshooting a problem with a diagnostic test, the Air Force said.
"The incident did not result in any injuries, prevent the Air Force from meeting its ICBM requirements, or create a hazard to public safety," the Air Force said.
An investigation found that the maintenance team chief did not follow the technical guidance, the Air Force said. The team chief and two of his airmen were decertified but returned to duty after being retrained and certified, the statement said.
The Air Force said it has strengthened its procedures and modified its training as a result of the mishap, which caused about $1.8 million in damage to the missile.
Reporting by Idrees Ali; writing by Eric Beech.
To Learn More:
Sloppy Oversight of Classified Nuclear Weapons Drawings and Parts (by Noel Brinkerhoff, AllGov)
U.S. Officers with Nuclear Bomb Launch Keys Fell Asleep and Left Blast Door Open…Twice (by Noel Brinkerhoff and Danny Biederman, AllGov)
Nuclear Facilities Agency Releases Weapons Site Report…after being Sued (by Matt Bewig, AllGov)
Scientists Forget How to Build Nuclear Bomb (by Noel Brinkerhoff, AllGov)