Measles Outbreak at Disneyland and Elsewhere Blamed on Foreign Visitors and Anti-Vaccine Movement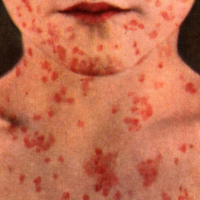 After years of advances in California by the anti-vaccine movement, the state Department of Public Health (pdf) last month reported (pdf) a drop in requests for personal belief exemptions in schools and an ever-so-slight rise in the number of fully-vaccinated children.
That came just in time for an outbreak of highly-contagious measles among mostly unvaccinated folks in the heartland of the anti-vaccination movement—Orange County, or more specifically, Disneyland.
The infection count changes daily, hitting 85 nationwide Saturday night. The majority of the cases have been linked to Disneyland. The total includes the addition of five Disneyland employees. About two dozen students at Huntington Beach High School, where an infected student came to class earlier this month, students were barred from classes until January 29 because they lack proof of measles vaccination.
What started out as an outbreak at the amusement park a week ago has spread to at least seven states and Mexico. The Public Health department said that there have been no new cases reported at Disneyland since the initial outbreak and anyone who would have directly contracted the virus there would have showed symptoms by January 10.
What only a few years ago would have been an isolated outbreak of disease with no unvaccinated hosts to spread it, is now a potential major health threat. Measles can be spread with a sneeze or its residue after the infected person is gone.
The disease is believed to have been started by a single infected person or family at Disneyland in Anaheim between December 17 and 20. The Los Angeles Times said doctors had hoped to contain it to people who were there, but it's not like Disneyland is the only place the once nearly-eradicated disease is thriving.
Overall, the U.S. had 644 confirmed cases in 2014, the most in 20 years and an annual spike of about 350%. California had a major outbreak early last year when 49 cases were reported before the end of March, compared to four the year before. Twenty-one of the cases were in Orange County.
There is a reason for that. An anti-vaccine movement among wealthy people has led to an increase in parents claiming a waiver from having their school-age children vaccinated. Some parents oppose vaccinations for religious reasons, others because they distrust government-mandated health solutions.
But a lot of them have bought into the argument that a component of the vaccine causes autism. The overwhelming scientific consensus is that there is no connection between the two.
Whatever the reason, a lot of rich people are bailing on vaccinations while rates drop into danger zones below 95%, which causes a loss of herd immunity for the public at large. More than 150 schools in Los Angeles County have exemption rates of 8% or higher for at least one of the five vaccines recommended for children, according to a study by the Times. All of them are in areas with incomes averaging $94,500, 60% higher than the county median.
The Santa Monica-Malibu Unified School District had an exemption rate of 14.8% last year. Capistrano Unified in Orange County checked in at 9.5%.
An estimated 20 million cases of measles are reported every year worldwide, killing 164,000 people. The United States used to experience around 500,000 cases and 500 deaths a year until the introduction of a vaccine in the 1960s brought the disease under control in this country.
Now, a combination of unvaccinated international visitors and a low California vaccination rate threaten to take us back to those days when measles, mumps and rubella (not to mention whooping cough) ravaged households and scarred faces and psyches.
-Ken Broder
To Learn More:
Measles Confirmed among Disneyland Resort Workers (by Jenna Chandler, Orange County Register)
Measles Outbreak Spreading Beyond Disneyland Visitors (by Rong-Gong Lin II, Los Angeles Times)
Sick Privilege: Wealthy Anti-Vaxxers Are Driving Outbreaks of Deadly 19th Century Diseases (by Rory Carroll, The Guardian)
The California Measles Outbreak and the Least-Happy Debate on Earth (by Arit John, Bloomberg)
Disneyland Measles Outbreak: Infected Woman Took 2 Flights Before Diagnosis (by Rosanna Xia and Rong-Gong Lin II, Los Angeles Times)
Unvaccinated Children Clusters Pop Up All Over Northern California (by Victoria Colliver, San Francisco Chronicle)
Unvaccinated Orange County Leads the Way in Scary State Measles Outbreak (by Ken Broder, AllGov California)
2014-2015 Kindergarten Immunization Assessment Results (California Department of Public Health, Immunization Branch) (pdf)