Maldives' Ambassador to the United States: Who Is Ali Naseer Mohamed
Monday, September 11, 2017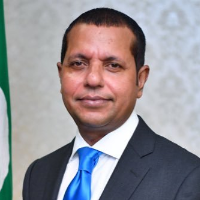 Ali Naseer Mohamed
Ali Naseer Mohamed, a longtime member of his country's diplomatic corps and a former Maldives foreign minister, presented his credentials as ambassador to the United States on July 21, 2017, after being appointed on June 28. He is also the non-resident ambassador to Canada, as well as Maldives' permanent representative to the United Nations.
Mohamed was born November 2, 1969, in Gaddhoo, Gaafu Dhaalu Atoll, Maldives. He studied business administration at the University of Sydney, Australia, before earning an M.A. in diplomatic studies at the University of Leicester, in England.
Mohamed joined the Maldives' Foreign Service in 1985 as an attaché in the high commission at Colombo, Sri Lanka. He returned to the Maldives in 1991 as an administrative officer and was made protocol officer in 1994. In 1997, Mohamed was tapped to lead the ministry's research division and in 2001 was made assistant director for research.
Mohamed became assistant director in the Department of External Resources in 2003 and the following year coordinated international relief efforts in Maldives for the aftermath of the Indian Ocean earthquake and tsunami. In 2005, Mohamed was appointed assistant director general in the Department of External Resources. He moved to the Political Affairs Directorate in 2007 as director general.
In 2008, Mohamed took time off to work on his Ph.D. in diplomatic studies at Australian National University in Canberra. He was back in the Foreign Relations Ministry in 2012 as an additional secretary in the Policy Planning Division. The following year, he was promoted to foreign secretary, serving until 2017. Speaking at the United Nations Human Rights Council on September 24, 2015, Mohamed made it clear that his government rejected the concept of freedom of religion for its citizens, as well as LGBT and non-traditional forms of families.
As a representative of a low-lying island nation, much of Mohamed's focus in foreign relations has been to urge other nations to cooperate to reduce global warming.
Mohamed is married to Azeema Adam, who served as governor of the Maldives Monetary Authority until resigning in August 2017 to join her husband in the United States. She was criticized for inaction after the theft of almost $80 million from the Maldives' state-owned tourism promotion company. The couple have a daughter and a son.
-Steve Straehley
To Learn More: