Libya's Ambassador to the United States: Who Is Wafa Bugaighis?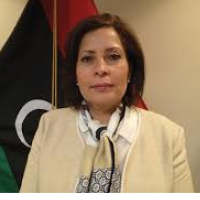 Wafa Bugaighis
Wafa Bugaighis, who had already been serving as her country's chargé d'affaires in Washington, presented her credentials as Libya's ambassador to the United States on December 1, 2017.
Bugaighis' father was a general in the Libyan army under King Idris, who was overthrown by Moammar Gadhafi in 1969. Bugaighis graduated from American International School in Vienna, Austria, in 1982 before coming to the United States to study at Catholic University of America. She initially majored in nuclear engineering, but when the U.S. government banned Libyans from studying that field in the United States, she switched to chemical engineering, earning a B.Sc. in 1987. She also studied at George Washington University.
Bugaighis began her career in 1988 as a chemical engineer for Arabian Gulf Oil Co. and continued in that position for more than 18 years. She moved into public service in September 2007 as deputy chairwoman of Nour Al Maarif Education Co. In 2011, she was director of the International Collaboration Bureau for east Libya, where she worked to rebuild her country's education system after the revolution that year that deposed Gadhafi.
Bugaighis moved into the Ministry of Foreign Affairs and International Cooperation in March 2013 as deputy minister for political affairs and for five months in 2014 was acting foreign minister.
In June 2014, Bugaighis' cousin, attorney and human rights activist Salwa Bugaighis, was killed in Benghazi after voting in a local election. Islamic militants were thought to be responsible for the assassination. In December of that year, Bugaighis was appointed chargé d'affaires at Libya's embassy in Washington. She held that rank until being officially made ambassador in late 2017.
Bugaighis speaks Arabic, English and German.
-Steve Straehley
To Learn More:
Wafa Bugaighis (LinkedIn)
Despite Assassinations, Libyan Women Seek Place in Government (by Nadia Dreid, Scripps Howard Foundation Wire)
Libya's Wafa Bugaighis: We Desperately Need Help (by Larry Luxner, Washington Diplomat)