Lawsuits Accuse Obama Administration of Abandoning Americans Stuck in Yemen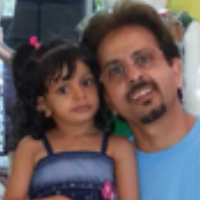 Jamal al-Labani and his daughter (photo: al-Labani family)
Two suits have been filed on behalf of American citizens who need help getting out of Yemen, which in recent weeks has become a battlefield.
The suits, one filed (pdf) in Washington and the other filed in Detroit, home to many Arab-Americans, ask the U.S. government to help evacuate Americans who went to Yemen, mostly for business or family reasons. The plaintiffs cite other instances where U.S. forces have moved into danger areas to evacuate U.S. citizens. Some believe that the government is failing to act in this case because most of those in danger are Arab-Americans. At least one American, Jamal al-Labani of Hayward, California, has been killed in the fighting. Al-Labani, who owned a gas station in Oakland, had gone to Yemen to try to bring out his pregnant wife and their 2½ -year-old daughter. He was killed by a mortar shell in Aden.
"Help get these individuals out," Abed Ayoub, the legal and policy director at the American-Arab Anti-Discrimination Committee, one of the suit's plaintiffs, told the Detroit Free Press. "They are in dire need of assistance....Use the military we have, use the resources we have in the region and get the citizens home. They're American. They're just as American as everybody else."
The lawsuit filed in Washington is on behalf of 41 Yemeni-Americans, while the one filed in Detroit is on behalf of 36 Yemeni-Americans from Wayne County, Michigan. The Council on Islamic-American Relations is also a plaintiff in the suits.
"All day the question I ask myself is: Why is the United States not helping us?" Sallah Elhushayshi, 21, of Brooklyn, told McClatchy by phone from the city of Taiz as gunfire was heard in the background. "Did you hear that? It's a war now," he said. "People are fighting, guns everywhere. We feel afraid. We have nothing. We're worried about food and water every day. We feel hopeless, really."
State Department officials say there are no plans to rescue Americans in Yemen. "The situation in Yemen is dangerous and unpredictable," an official told McClatchy. "Sending in military assets, even for an evacuation operation, could put U.S. citizen lives at greater risk."
Other countries have rescued their citizens though. India, for instance, was able to move about 5,600 people, including almost a thousand from 41 other nations, out of Yemen. China, Russia and Ethiopia also evacuated their citizens. The Russians are said to have evacuated 18 Americans.
A no-fly zone has been imposed on the country by Saudi Arabia, which is fighting Houthi rebels in Yemen. The Obama administration is now supplying the Saudi military campaign with substantial logistical support that includes aerial refueling, surveillance information and choosing which targets to bomb.
-Steve Straehley
To Learn More:
Suits Seek Rescue of Americans Stranded in Yemen (by Niraj Warikoo, Detroit Free Press)
U.S. Bails on Citizens Stranded In Yemen (by Robert Kennedy, Courthouse News Service)
Desperation for Americans in Yemen as U.S. Refuses to Mount Rescue (by Hannah Allem, McClatchy)
Family Mourns Oakland Man — First U.S. Citizen Killed In Yemen Violence (KPIX 5, CBS San Francisco)
Emergency Complaint for Mandamus With Request for Injunctive Relief (pdf)