Judge Gives Go-Ahead for Another Torture Lawsuit against Donald Rumsfeld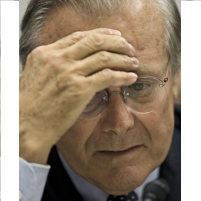 Donald Rumsfeld
According to his lawsuit, he was repeatedly abused before being released without explanation in August 2006.
He filed his lawsuit in 2008 and named Rumsfeld as a defendant, arguing that the defense secretary personally approved torturous interrogation techniques on a case-by-case basis.
The government has said the veteran was suspected of helping give classified information to insurgents and allowing anti-coalition forces to enter Iraq. But he was never charged with a crime.
But District Judge James Gwin rejected those arguments and others, pointing out that American citizens are protected by the Constitution at home or abroad during wartime.
Last year, a different federal judge, Wayne Andersen, approved a lawsuit against Rumsfeld on similar charges dealing with the torture of U.S. security contractors Donald Vance and Nathan Ertel.
-Noel Brinkerhoff