Jeb Bush's Campaign Finance Organization Breaks New Ground by Relying on Super PAC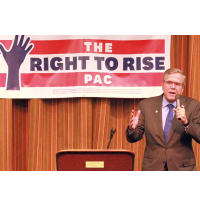 (AP Photo)
Before officially declaring his candidacy for president, Jeb Bush used his time wisely. His team talked strategy with people from Right to Rise USA, the Super PAC working to elect Bush. Now that Right to Rise USA has raised $103 million and climbing, Bush is able to stand back and watch the Super PAC do its work.
Preparation has been the key. Bush was able to help Right to Rise raise much of that money before he declared his intention to run. He was also helped by his status as a private citizen. "Because he was not a federal officeholder, and not a governor, he didn't have the legal restrictions that they face in fundraising," Republican campaign lawyer Cleta Mitchell told OpenSecrets.org. "Federal officeholders and candidates can't raise more than $2,700 for a campaign or $5,000 for a PAC. Governors are restricted in being able to raise money from anyone in the financial services industry, which eliminates a lot of the sources of money."
Bush's actual campaign, by comparison, has raised a bit more than $11 million. Not bad, but less than Hillary Clinton, Marco Rubio, Bernie Sanders and Ted Cruz. For Bush, the heavy lifting of the election effort will go to the Super PAC.
With all that cash, Right to Rise has been able to block out key spots for TV commercials and digital advertising. And since they had plenty of time before Bush declared, they were able to work with the former Florida governor to record interviews that will later be used in commercials, according to Zeke J. Miller and Philip Elliott of Fortune.
The upshot is that even though Right to Rise and the Bush campaign can no longer coordinate their efforts, the Super PAC can run on autopilot. It has a clear idea of what to do, how to do it and plenty of cash on hand. All Bush has to do is sit back and watch it work.
-Steve Straehley
To Learn More:
How Jeb Bush's Super PAC Will Spend $103 Million (by Zeke J. Miller and Philip Elliott, Fortune)
Jeb Bush Super PAC's $103 Million Dwarfs What 2012 Groups Raised (by Will Tucker, OpenSecrets.org)
Jeb Bush Team Has Raised $114 Million for Presidential Run (by Patricia Mazzei, Miami Herald)
Jeb Bush Asks Donors to Limit Contributions to $1 Million Each…For Now (by Noel Brinkerhoff and Danny Biederman, AllGov)