House Benghazi Committee Sets Record as Longest-Lasting Special Congressional Investigation
Wednesday, September 30, 2015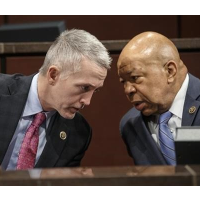 Benghazi Committee chair Trey Gowdy (L) and ranking member Elijah Cummings (photo: J. Scott Applewhite, AP)
There's a new answer to the trivia question: What was the longest special investigation by Congress?
Those answering Watergate used to be correct … until this week when another, longer lasting probe gained this distinction. The House Select Committee on Benghazi is now the record holder, according to The Hill.
The investigation into the 2012 attacks in Benghazi has now been existence for 72 weeks. The Watergate probe ran for more than one year and four months.
Democrats were happy to blast the news about Benghazi's staying power, saying the probe has been little more than an exercise in partisan attacks on Hillary Clinton, who was Secretary of State at the time of the attacks.
"The Benghazi Select Committee has now become one of the longest and least active congressional investigations in history," Rep. Elijah Cummings (D-Maryland), the committee's top Democrat, said in a statement. "The committee has squandered the last 16 months and more than 4.5 million taxpayer dollars dredging up political attacks to impact the 2016 presidential election—a severe misuse of taxpayer funds and congressional power. The committee has turned into a political punchline. Sadly, that comes at the expense of being taken seriously and being able to take effective, bipartisan actions to improve the security of our diplomats abroad."
Julian Hattem at The Hill noted Benghazi is now the record holder for a congressional investigation of a specific topic. "Other congressional investigations — such as the probe into the CIA's use of 'waterboarding' and other brutal interrogation methods that many consider to be torture — lasted for much longer," he wrote.
Other select committees investigating far more substantive issues have finished their business in far less time. The panel studying the Pearl Harbor attacks was in business nine months, 15 days; the Warren Commission investigating the assassination of President Kennedy lasted nine months, 27 days; and the investigation of the response to Hurricane Katrina took five months and one day.
-Noel Brinkerhoff
To Learn More:
Benghazi Panel Now Longest Congressional Investigation (by Julian Hattem, The Hill)
Benghazi Committee Now One of the Longest and Least Active Congressional Investigations in History (Select Committee on Benghazi)
In a Classic Friday Afternoon News Release, Republican-Controlled House Intelligence Committee Admits No Wrongdoing by Pentagon and CIA in Benghazi (by Steve Straehley, AllGov)
Bipartisan Senate Report Says Benghazi Attacks were Preventable, Blames CIA Secrecy and State Dept. (by Noel Brinkerhoff, AllGov)