Gas Pipeline Emergency Plans Not Available to Public
Thursday, October 07, 2010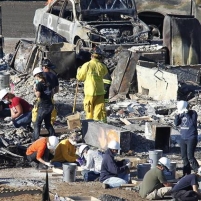 San Bruno Explosion (AP Photo: Tony Avelar)
There's no way to know for sure if Pacific Gas & Electric had adequate emergency response plans in place to address accidents like the one that devastated part of San Bruno, California, on September 9, when a PG&E underground gas line led to an explosion that killed at least eight people. The reason for this is that the company and others like it are not required by law to produce copies of such plans to the government.
Prior to the explosion, PG&E did not share its emergency plan with either city, county or state officials. Nor did the U.S. agency charged with gas pipeline oversight—the
Pipeline and Hazardous Materials Safety Administration
—have a copy, because nothing in federal law requires this disclosure.
The federal pipeline safety administration also has been accused of having "a cozy relationship with the companies it is supposed to regulate," according to the Associated Press.
-Noel Brinkerhoff