Fighting Drug Take-Back Program, Big Pharma Says Dump Your Meds in the Trash
Thursday, December 05, 2013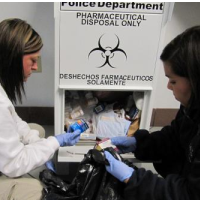 (photo: Mike Stark, AP)
The pharmaceutical industry is suing King County, Washington, over a new ordinance requiring drug companies to retrieve expired medications from consumers.
The plaintiffs, including the Pharmaceutical Research and Manufacturers of America, the Generic Pharmaceutical Association, the Biotechnology Industry Association, and the Consumer Healthcare Products Association, sued King County and its Department of Public Health over the new take-back drug law.
They claim the legal requirement violates the Commerce Clause of the U.S. Constitution.
Also, the drug makers say it makes more sense for consumers to just dump their old drugs in the trash, which is "safe, convenient, and effective."
Under the "Secure Medicine Return Rule & Regulation," the program must be "financed and operated by drug producers selling medicines in or into King County for residential use," according to the lawsuit.
Drug manufacturers whose products reach King County, which includes Seattle, must operate or contribute to a privately administered drug take-back program.
The program does not apply to vitamins, herbal remedies, cosmetics, soaps and detergents.
Companies cannot pass on the costs of the program to consumers, and will be fined if they fail to participate.
The plaintiffs say the regulation violates the Commerce Clause in three ways: by burdening interstate commerce by transferring a governmental responsibility onto drug producers; by shifting costs of a local regulatory program onto interstate commerce; and by regulating entities with no significant ties to King County and controlling conduct across county lines, according to June Williams of Courthouse News Service.
The lawsuit compares drug firms bearing the cost of disposal to making "food producers…collect and dispose of all spoiled food." The law's backers call such a comparison "absurd."
"For a multi-million dollar industry, like the drug companies, to not be supportive of this and not be willing to pay for this small prevention effort, it's just petty," the Center for Human Services' Beratta Gomillion told King 5 News.
In their lawsuit, the pharmaceutical firms insist that it is preferable for people to just throw out their old prescription medicines in their garbage.
"Disposal of unwanted pharmaceuticals in household trash is safe, convenient, and effective," the complaint states. "Promptly throwing away unwanted pharmaceuticals ensures that those medicines are inaccessible to children, adolescents, and other unintended users. And double-lined active landfills approved for use by the EPA and equipped with sophisticated leachate collection systems virtually eliminate the possibility that active pharmaceutical ingredients could leach out into the environment if disposed of along with household trash."
Dumping medicine in the trash is generally not advisable, and the Food and Drug Administration provides detailed instructions to consumers regarding the proper disposal of prescription drugs. It suggests using drug buy-back programs, but if those are not available, it recommends mixing the medicine with kitty litter or coffee grounds (soaking the mixture with water is advisable) prior to disposing of it in the garbage.
This procedure renders the drugs unusable by those would attempt to steal them from the garbage. The pharmaceutical firms don't acknowledge this possibility. They state that such a risk does exist with the buy-back programs, where theft from "collection kiosks, bins and other handling facilities" will "inevitably occur."
-Noel Brinkerhoff, Danny Biederman
To Learn More:
Big Pharma Says: Throw Drugs in the Trash (by June Williams, Courthouse News Service)
Drug Companies Sue King County Over 'Take-Back' Law (by John Langeler, King 5 News)
Federal Judge Says Counties Can Force Drug Makers to Fund Program to Take Back Unused Drugs (by Matt Bewig, AllGov)