Federal Courts Green Light Police Access to Cellphone Tower Records without a Warrant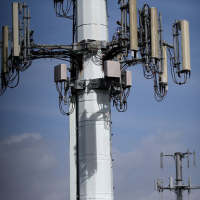 Cell phone tower (photo: Getty Images)
A federal appeals court has ruled that law enforcement agencies may access tracking information on cell phones without a warrant.
The 11th Circuit Court of Appeals ruled (pdf) Tuesday that police were justified in asking a mobile phone provider to hand over the records of Quartavious Davis, who was convicted of committing seven armed robberies in South Florida in 2010. As part of the evidence used against Davis, prosecutors presented data showing that Davis' phone was using cell towers near sites of robberies.
In a 9-2 vote, the court said that mobile phone users should have no expectation of privacy. "Cell users know that they must transmit signals to cell towers within range, that the cell tower functions as the equipment that connects the calls, that users when making or receiving calls are necessarily conveying or exposing to their service provider their general location within that cell tower's range, and that cell phone companies make records of cell-tower usage," Judge Frank Hull wrote. The ruling closely followed the reasoning in a 2013 decision from the Fifth Circuit.
The ruling overturned a previous decision (pdf) last June by a three-judge panel of the court that said a warrant was necessary. Tuesday's ruling was from the entire 11th Circuit.
Davis' attorney, David O. Markus called the decision "breathtaking." He said the ruling could open the door to law enforcement being able to access Facebook posts, online purchase information and data in "cloud" storage without a warrant, according to The Associated Press.
The American Civil Liberties Union (ACLU) had filed a brief in support of requiring a warrant for such a search. "The majority opinion fails to appreciate the necessity of protecting our privacy in the digital age," Nathan Freed Wessler, staff attorney at the Speech, Privacy and Technology Project of the ACLU, told the AP.
-Steve Straehley
To Learn More:
Police Can Track Your Cell Phone Without a Warrant—For Now (by Sam Baker, National Journal)
Warrantless Cellphone Tracking Gets Green Light From 11th Circuit (by Jack Bouboushian, Courthouse News Service)
Court: Warrantless Cellphone Tracking Not Illegal Search (by Curt Anderson, Associated Press)
U.S. vs Quartavious Davis (pdf)
In a First, Federal Court Panel Rules Collection of Cellphone Tower Data without a Warrant is Unconstitutional (by Noel Brinkerhoff and Steve Straehley, AllGov)