Federal Court Rules that Improved DNA Testing Technology Means Forensic Samples from Past Crimes Must be Treated as New Evidence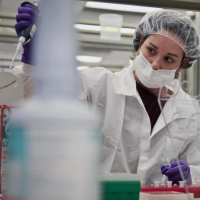 Forensic science criminalist performs DNA testing (photo: Bebeto Matthews, AP)
For the first time in the United States, a federal appeals court has ruled that advances in DNA technology require that previously valueless forensic specimens must be viewed as newly discovered evidence, and therefore not subject to time limits established by law.
The court decision effectively opens the door to the retesting of forensic evidence in cases that have surpassed the statutory time limit for doing so. This could potentially lead to new trials for convicted individuals who have been claiming their innocence.
The ruling (pdf) came about in the case of a new trial sought by a man who, nine years ago, was convicted of attempted sexual abuse of a minor. The court decision will now allow retesting of evidence in his case with the use of advanced DNA science.
The appealing defendant in the case, Bill Watson, was convicted in 2006 of trying to have sex with a 14-year-old girl who was passed out at a party. He received a 14-year sentence, but has been trying for the past two years with the help of the Montana Innocence Project to have his case reviewed.
The girl's brother had testified he caught Watson in the act, but his testimony came under question during the trial. Semen evidence collected from the girl's underwear was tested, but the technology available at that time could not determine if it belonged to Watson or possibly even someone else at the party. Furthermore, it was determined that the underwear actually belonged to the girl's mother, and therefore could have been contaminated by someone the mother was in a relationship with. A physical examination of the girl also suggested the possibility that no rape at all had occurred. But, ultimately, the brother's alleged eyewitness account took hold.
Watson's lawyers have wanted that evidence retested now that DNA technology has advanced. However, their motion requesting the retest was denied by U.S. District Judge Sam Haddon of Great Falls, who said the filing came more than three years after Walton's conviction and the statutory time limit under the Innocence Protection Act. That law, which exists as Title IV of the Justice for All Act of 2004, was passed by Congress to help use DNA tests to exonerate wrongly convicted people.
Watson's case was then brought to the Ninth Circuit Court of Appeals, where a three-judge panel ruled people convicted of crimes through inconclusive or outdated DNA testing procedures should be allowed new tests using the latest technological advances without regard to a three-year time limit set by law.
"No tradition is more firmly established in our system of law than assuring to the greatest extent that its inevitable errors are made in favor of the guilty rather than against the innocent," Judge Andrew Kleinfeld wrote for the court.
-Noel Brinkerhoff, Danny Biederman
To Learn More:
Court Ruling Opens DNA Technology Advances to Old Cases (by Matt Volz, Associated Press)
New Tech Threatens DNA-Free Conviction (by Rose Bouboushian, Courthouse News Service)
United States v. Bill Tyrone James De Watson (Ninth Circuit Court of Appeals) (pdf)
300th Wrongly Convicted American Released Thanks to DNA Evidence (by Matt Bewig, AllGov)
Prosecutors Fighting the Use of DNA Evidence in Order to Save Face (by Noel Brinkerhoff and David Wallechinsky, AllGov)