FCC Set to Say Goodbye to Net Neutrality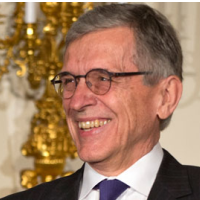 Tom Wheeler
The Federal Communications Commission (FCC) is preparing to propose rules for the Internet that would force some services, such as AllGov.com, to side roads while big companies such as Netflix and Disney keep rocking down the information superhighway.
An appeals court in January struck the FCC's rules on net neutrality, or the principle that Internet providers must give each website equal access to its network. Now, the commission has announced its intent to allow broadband companies to be paid for better access to their networks.
The prospect has upset consumer groups, which argue that the new rules could stifle startups that can't afford to pay for special access and raise prices of such services as movie streaming when companies pass along access charges to customers.
"If it goes forward, this capitulation will represent Washington at its worst," Todd O'Boyle, program director of Common Cause's Media and Democracy Reform Initiative, told The New York Times. "Americans were promised, and deserve, an Internet that is free of toll roads, fast lanes and censorship—corporate or governmental."
FCC Chairman Tom Wheeler said such concerns are unfounded. "As with the original open Internet rules, and consistent with the court's decision, behavior that harms consumers or competition will not be permitted," he said.
According to Wheeler, a draft notice of proposed rulemaking states:
That all ISPs [Internet Service Providers] must transparently disclose to their subscribers and users all relevant information as to the policies that govern their network;
That no legal content may be blocked; and
That ISPs may not act in a commercially unreasonable manner to harm the Internet, including favoring the traffic from an affiliated entity.
Those assurances aren't satisfying those in favor of net neutrality. "The very essence of a 'commercial reasonableness' standard is discrimination," Michael Weinberg, a vice president at Public Knowledge, a consumer advocacy group, said in a statement. "And the core of net neutrality is nondiscrimination."
Some are suspicious that Wheeler, a former telecommunications executive and Cellular Telecommunications and Internet Association lobbyist, will not do his utmost to protect consumers as the new rules are fashioned. The answer will come May 15, when the proposed new rules will be released. Until then, lobbyists such as Michael K. Powell, a former FCC chairman and now president of the National Cable and Telecommunications Association, are lining up to talk to the commission about the proposals.
Wheeler, who raised more than $700,000 for Barack Obama's presidential campaigns, took over as FCC chairman in November 2013.
-Steve Straehley
To Learn More:
F.C.C., in a Shift, Backs Fast Lanes for Web Traffic (by Edward Wyatt, New York Times)
Lobbying Efforts Intensify After F.C.C. Tries 3rd Time on Net Neutrality (by Edward Wyatt, New York Times)
Obama Bundler Tom Wheeler Helps His Former Industry From FCC Perch (by Peter Olsen-Phillips, Sunlight Foundation)
Netflix-Comcast Deal May Mark the End of Net Neutrality (by Noel Brinkerhoff, AllGov)
Ominous Ruling by Federal Appeals Panels Overrules FCC and Threatens "Net Neutrality" (by Noel Brinkerhoff, AllGov)