FBI Director not Invited to Obama's Conference on Violent Extremism
Sunday, February 22, 2015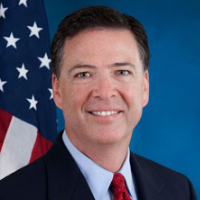 FBI Director James Comey
Federal Bureau of Investigation Director James Comey is one of the leading officials tasked with stopping terrorism. Yet when the federal government held a conference on violent extremism, Comey was left off the invitation list.
Obama administration officials said Comey wasn't invited because they didn't want the conference to focus on law enforcement. However law enforcement officials from other countries, including Aleksandr Bortnikov, the head of Russia's Federal Security Service, the offspring of the KGB, did attend the meeting in Washington.
An administration official told The New York Times that efforts to counter violent extremists "are premised on the notion that local officials and communities can be an effective bulwark against violent extremism, and most of the participants—spanning community leaders, local, law enforcement, private sector innovators, and others—reflected this bottom-up approach."
According to some sources, Comey might not have missed much. The meeting has been criticized by some as "ineffectual and irrelevant, and not focused on immediate and tangible solutions to stop terrorists," according to Michael S. Schmidt of the Times.
Comey did travel to Mississippi earlier this month to push for increased information gathering resources for the bureau. "I'm very worried about where we're drifting as a country in respect to law enforcement's ability to, with lawful process, intercept communications," he told The Clarion-Ledger in Jackson. "I'm not talking about sneaky stuff. I'm talking about situations where we have probable cause to believe that somebody is communicating with a terrorist group,…We're drifting into a place where there are going to be large swaths of this country beyond the reach of the law."
-Steve Straehley
To Learn More:
FBI Chief Not Invited to Meeting on Countering Violent Extremism (by Michael S. Schmidt, New York Times)
FBI Director: ISIS Real Threat to Mississippi, Nation (by Therese Apel, Jackson Clarion-Ledger)
FBI Director James Comey (AllGov)