Facebook Expands Political Footprint, Eyeing Major Role in 2016 Presidential Campaigns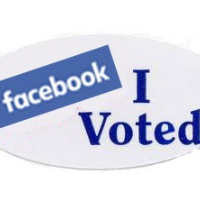 (graphic: Steve Straehley, AllGov)
Facebook has made changes that allow political campaigns to target any of their 189 million monthly users in the United States, using personal information provided to the site and derived from clues that come from how users behave, such as shopping habits.
"We are guaranteeing you will reach the right person at the right time and eliminate the waste that you might find in email marketing, certainly in TV advertising," Eric Laurence, who is in charge of political advertising on Facebook, told National Journal. "That's really the power of Facebook targeting."
Campaigns can upload a voter file and Facebook will send targeted ads to those users. For instance, those who have given money to a campaign might be asked to give again, while those who merely clicked on a candidate's link might be asked for an email address.
"I think most users really have no idea how much information Facebook collects about them or how Facebook is able to infer from even a post to a friend what their political orientation might be," Marc Rotenberg, the president of the Electronic Privacy Information Center, told The New York Times. "If you're a Facebook user, Facebook knows everything you've said, everything you've posted, everything you've clicked on."
To attract the attention, and dollars of candidates, Facebook has made several changes. One is improved video capacity, according to the Times, which allows a campaign to embed a link as part of a "call to action" that directs users to donate money or sign a petition.
Facebook also has brought in experienced politicos to help market itself to campaigns.
"Since 2012, Facebook has doubled its government and politics team, which includes a political ad sales group, a data communications team and employees devoted solely to Democrats or Republicans," the Times' Ashley Parker wrote.
Campaigns appreciate Facebook's ability to narrow their audience to exactly those they believe will be receptive to their message. "Think about how powerful this is. This is so, so powerful, and I honestly think it's still underused," Vincent Harris, Rand Paul's chief digital strategist, told National Review. "And it's cheap. It's so cheap. I am getting Facebook video views for one cent a view—one cent a view! ... It's a fundraising tool, it's a persuasion tool, and it's a [get-out-the-vote] tool. It's a way to organize, too.
"Facebook is actually everything," Harris added. "And this is what scares people."
-Steve Straehley, Noel Brinkerhoff
To Learn More:
Facebook Expands in Politics, and Campaigns Find Much to Like (by Ashley Parker, New York Times)
Facebook the Vote (by Shane Goldmacher, National Journal)