Expensive New Hepatitis C Medicine, Seen as Harbinger of Specialty Drugs to Come, Poses Challenge to Health Care System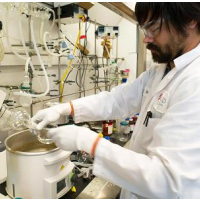 A Gilead researcher works on hepatitus C drug (photo: David Paul Morris, Bloomberg/Getty Images)
Expansion of healthcare access under Obamacare and the release of expensive drugs have state officials breaking into a sweat over how to pay for high-priced treatments for those who need them.
The arrival of Sovaldi, Gilead Sciences' new treatment for hepatitis C, is one perfect example. The drug costs $84,000 per patient for a 12-week regimen.
In Oregon, state Medicaid officials face the prospect of spending nearly as much money to provide Solvaldi to hepatitis C sufferers, $360 million, as it did to cover all drugs given to Medicaid patients last year, $377 million. Faced with this kind of budget-busting scenario, Oregon may have to deny the drug to some qualified individuals.
"The purpose of health care and the purpose of the Affordable Care Act was supposed to provide — and now mandates — access to quality and affordable treatment," Ryan Clary, executive director of the National Viral Hepatitis Roundtable, a patient group that receives funding from the pharmaceutical industry, told The Washington Post. "They're now finding that they're not able to get cured for the condition that'd been keeping them from being in the health care system."
Oregon has a waiver from the federal government that allows it to consider the cost of a drug versus a patient's need, so the state is recommending the sickest patients get Sovaldi. "We recognize that there are those patients who must be treated, and we're going to treat them," said Tom Burns, director of pharmaceutical purchasing at the Oregon Health Authority. "But the vast majority can wait while we figure out a policy that doesn't bankrupt this state."
It might turn out to be cost-effective for Oregon to send hepatitis C patients on a "vacation." Gilead Sciences says that in Egypt, where the disease is rampant, a course of treatment will cost only $300.
There are 3.2 million Americans with hepatitis C, which attacks the liver. About 15,000 Americans die each year from the disease. Solvaldi is considered a huge improvement over existing treatments, which required 48 weeks to work and often produced severe side effects. The new drug takes 75% less time to provide help and is supposed to have "more manageable" and "far less severe side effects," the Post's Jason Millman reported. In addition, patients who are cured by Solvaldi don't have to have liver transplants, which can cost more than a half-million dollars.
On the cost side, there are about 750,000 hepatitis C patients covered by Medicaid plans throughout the country or in the prison system. A complete course of treatment of Solvaldi for all those people would cost states $55 billion.
-Noel Brinkerhoff, Steve Straehley
To Learn More:
The Drug That's Forcing America's Most Important – and Uncomfortable – Health-Care Debate (by Jason Millman, Washington Post)
Pricey Hepatitis C Drug Draws Criticism (by Anita Powell, Voice of America)
Billions Wasted as Medicare Turns Blind Eye to Excessive Brand-Name Drug Prescriptions (by Noel Brinkerhoff and Danny Biederman, AllGov)