Do Artificial Soccer Fields Cause Cancer? EPA Won't Comment
Saturday, November 07, 2015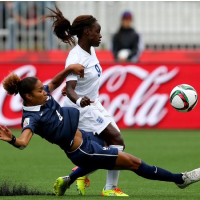 (photo: Elsa/Getty Images)
The director of the Environmental Protection Agency (EPA) refuses to say whether artificial soccer fields are safe for children to play on. The questions come amid questions about whether the turf causes cancer.
The synthetic grass fields, which contain crumbs from recycled tires, have been the subject of an investigation by NBC News, which tried to get EPA Administrator Gina McCarthy to comment on whether her agency believes a problem exists. "I have nothing to say about that right now," McCarthy told NBC News when two of its reporters tried questioning her while she visited Congress. NBC News says it has made repeated requests for interviews with the EPA without success.
Companies that produce the "crumb rubber turf" say there is no scientific evidence linking the fields to health risks. But University of Washington women's soccer coach Amy Griffin has identified more than 60 soccer players, particularly goalies, who played on crumb rubber turf and have been diagnosed with various forms of cancer. The Washington State Department of Health is now conducting its own study of the playing fields.
Crumb rubber artificial turf is made from a combination of green nylon blades of "grass" and black crumb rubber infill, created by pulverizing recycled tires, according to NBC News.
Tires have mercury, lead, benzene and arsenic, among several other chemicals, heavy metals, and carcinogens, in them, based on information from the EPA.
The EPA in 2008 and the Consumer Product Safety Commission (CPSC) in 2009 declared the crumb rubber fields to be safe. But both agencies have backed away from that stance a bit, according to NBC.
"The agency believes more testing needs to be done," the EPA said last fall. "But, currently, the decision to use tire crumb remains a state and local decision."
Similarly, the CPSC also was less definitive about the fields' safety. CPSC Chairman Elliot Kaye in May told members of the House Energy Subcommittee on Commerce, Manufacturing and Trade that "safe to play on means something to parents that I don't think we intended to convey and that we shouldn't have conveyed."
-Noel Brinkerhoff, Steve Straehley
To Learn More:
Feds Won't Say If Artificial Turf on Your Kid's Soccer Field Is Safe (by Hannah Rappleye, Kevin Monahan and Stephanie Gosk, NBC News)
CPSC No Longer Stands by Safety of Artificial Turf (by Rachel Stockman, WSB-TV)
Artificial Turf Gets a Closer Look after Report Raises Safety Concerns (By Caitlin Gibson, Washington Post)