Director of U.S. Citizenship and Immigration Services: Who Is L. Francis Cissna?
Friday, November 03, 2017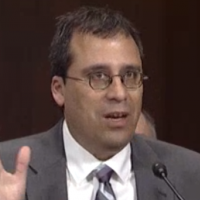 L. Francis Cissna
Lee Francis Cissna, an attorney with years of experience on immigration issues, was nominated on April 8, 2017, to be director of U.S. Citizenship and Immigration Services (USCIS). He was confirmed on October 5 with a vote of 54-43. USCIS is responsible for handling all matters pertaining to immigration and the granting of citizenship to non-nationals. The agency decides who is eligible for lawful permanent residence in the United States, which involves the granting of "green cards." It awards an average of one million green cards, 700,000 naturalizations and one million temporary work permits each year.
Cissna was born July 5, 1966, in Silver Spring, Maryland. His mother was an immigrant from Peru and he grew up speaking Spanish at home. He earned a B.S. in physics and political science from Massachusetts Institute of Technology in 1988; an M.A. in international affairs from Columbia in 1990 and his J.D. from Georgetown in 1995.
After earning his M.A., he worked as a junior-high school and high school science teacher in Morristown, New Jersey, and then as a computer software trainer. He spent the summer of 1993 as a legal intern for the Central and East European Law Initiative of the American Bar Association and the following summer at Pennie & Edmonds, an intellectual property law firm.
After law school, Cissna worked for three and a half years for the firms of Kirkpatrick and Lockhart and Steptoe and Johnson in their international trade offices. He also served for three years as a foreign service officer, in Port-au-Prince, Haiti, and in Stockholm, Sweden in the non-immigrant visa sections of the embassies.
Beginning in January 2003, Cissna began two years in the immigration group of the law firm of Kaufman & Canoles in Richmond, Virginia.
In October 2005, Cissna went to work in the USCIS Office of Chief Counsel. A year later, he went to work as deputy secretary of immigration and border security policy. In March 2009, he moved up to director of immigration policy in the Office of Policy. From February 2015 to February 2017, he served in the office of Iowa Senator Chuck Grassley (R), working on immigration issues such as changes to the H1-B visa program. The H1-B program, which concerns putting workers with technical skills in jobs that can't be filled by U.S. citizens, is a focus of Cissna's concerns. He's seen by the Center for Immigration Studies, an anti-immigrant think tank, as being tougher on immigration and could undo policies such as letting spouses of H1-B holders get work permits.
Beginning in September 2016, while he was director of immigration policy at the Department of Homeland Security, Cissna volunteered as an advisor to Donald Trump's presidential campaign regarding immigration policy.
Cissna's wife, Tiffany, is a former chief of staff in the DHS Office of Policy and a former legal assistant to Sen. John Cornyn (R-Texas) and is now a White House liaison in DHS. They have a daughter named Matilde and a son named Roberto.
-Steve Straehley, David Wallechinsky
To Learn More:
Confirmation Hearing Statement
Questionnaire for Senate Judiciary Committee
Trump's Immigration Pick Attacked Obama Programs in Ghost-Written Senate Letters (by Marcelo Rochabrun, ProPublica)
Trump Nominating Francis Cissna to Head Immigration Agency (by Laura D. Francis, Bloomberg)