Director of the Peace Corps: Who Is Jody Olsen?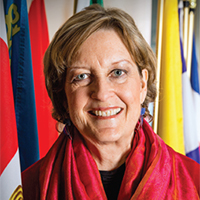 Jody Olsen
Josephine King "Jody" Olsen, who was a Peace Corps volunteer in Sousse, Tunisia, teaching English from 1966 to 1968, was nominated January 3, 2018, to be the organization's director.
Olsen was born in Utah and moved to Maryland in 1959 after her father, David King, was elected to Congress as a Democrat. Her grandfather, William King, represented Utah in the Senate from 1917 to 1941. Olsen attended Walter Johnson High School in Bethesda, graduating in 1961 before returning to her native state to study at the University of Utah. She earned a B.S. in sociology and a teaching certificate in 1965. Olsen later earned a master's in social work (1972) and a Ph.D. (1979) from the University of Maryland.
After graduating from Utah, Olsen and her then-husband, Robert Olsen, left for Tunisia as Peace Corps volunteers, with Jody Olsen teaching English during her two-year stint. After earning her master's degree, Olsen in 1974 was named director of the University of Maryland Center on Aging.
Olsen returned to the Peace Corps, this time as the country director for Togo, in 1979. In 1981, she was named regional director for North Africa, the Near East, Asia and the Pacific, holding that post until 1984. Olsen left the Peace Corps again, this time to become vice president of the student exchange group Youth for Understanding. But in 1989, Olsen was back at the Peace Corps, this time as its chief of staff.
In 1992, Olsen was named executive director for the Council for International Exchange of Scholars (CIES) and managed the Fulbright Senior Scholar Program, which facilitated college faculty exchanges. She left CIES in 1997 to become senior vice president of the Academy for Educational Development, a development consultancy. Olsen handled international training services, management development services, computer and systems services and higher education management services for the organization.
Olsen in 2002 was named deputy director of the Peace Corps, holding that position until the early days of the Obama administration, and served briefly as acting director in 2006 and again in 2009. She also served for a time as acting country director for Kazakhstan.
Olsen has been a visiting professor at the University of Maryland School of Social Work in Baltimore since 2010. She also was director of the Center for Global Education Initiatives and spent several summers heading research projects in Malawi, El Salvador, and India.
Olsen has two adult children, David and Kirsten.
-Steve Straehley
To Learn More:
Trump to Nominate Marylander Josephine Olsen to Lead Peace Corps (by John Fritze, Baltimore Sun)
2013 NASW-MD Chapter Award Winners: Seven Amazing Social Workers! (by Jenni Williams, National Association of Social Workers)
A Partnership in the Magheb: The First Ten Years of the Peace Corps in Tunisia (by Derek Khoudia, Graduate School-Newark Rutgers) (page 77)
A Vision for Peace (by Michael Richman, Maryland Alumni) (pdf)