Director of the National Highway Traffic Safety Administration: Who Is Heidi King?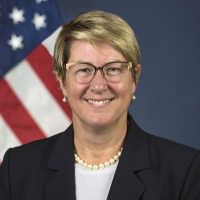 Heidi King
Heidi R. King previously served in the Office of Management and Budget (OMB) during Republican and Democratic administrations and as a staffer on the House Energy and Commerce Committee under GOP control. King was nominated April 5, 2018, to head the National Highway Traffic Safety Administration (NHTSA) in the Donald Trump administration. The NHTSA is charged with regulating safety standards in the auto industry and transportation. At her confirmation hearing before the U.S. Senate Commerce, Science and Transportation Committee on May 16, King, when asked about climate change and gas mileage standards, fell back on the common Republican answer by stating, "I'm not a climate scientist."
Born December 21, 1964, in Ventura, California, King worked as an emergency dispatcher in the Butte County Sheriff's Office and then as a park ranger in Pismo Beach, California. She graduated from the University of California at Irvine in 1995 with a B.A. in economics and math, and from California Institute of Technology with an M.Sc. in economics in 1998.
King worked in the Clinton White House as a regulatory policy analyst in OMB from 1998 to 2000. She then went to Telcordia Technologies, which had been spun off from Bell Labs with the breakup of AT&T. In 2002, she moved to drug maker Pfizer as senior manager of management science. During this time, King also served as a volunteer emergency medical technician in Chatham, New Jersey.
King returned to Washington in 2007 to the OMB, this time in the George W. Bush administration in the Office of Information and Regulatory Affairs, and remained there after Barack Obama took over. In 2011 she moved to Capitol Hill as chief economist of the House Energy and Commerce Committee, which was chaired by Rep. Fred Upton (R-Michigan).
King left government again in 2013 to become global director for environmental safety and risk for GE Capital, remaining through the end of 2016. The following year, she was appointed deputy administrator of the NHTSA, effectively running the organization since it had no administrator. While in that role, King advocated for reducing fuel mileage targets put into place during the Obama administration. She has also had to defend the agency's handling of the Takata air bag recall, which involves more than 3 million vehicles and at least 22 deaths.
King has one adult daughter, Kristin Muench.
-Steve Straehley
To Learn More:
Biographical Information Submitted to U.S. Senate Commerce, Science and Transportation Committee
Trump Officials Prepare to Undo Fuel-Efficiency Targets Despite Some Automakers' Misgivings (by Juliet Eilperin and Brady Dennis, Washington Post)