Director of the Defense Information Systems Agency: Who Is Nancy A. Norton?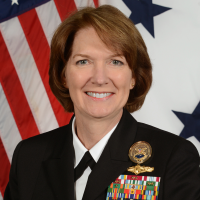 Nancy A. Norton
Vice Admiral Nancy A. Norton took charge of the Defense Information Systems Agency (DISA) on February 1, 2018, replacing Army Lt. Gen. Alan Lynn. DISA is a combat support agency of the Department of Defense responsible for planning, developing, fielding, operating and supporting command, control, communications, and information systems. It serves as the Defense Department's IT agency. The agency works to make information virtual and on-demand through its core services, including enterprise services, contracts, spectrum services, network services, voice services, information assurance, computing services, and testing. With more than 8,000 military and civilian employees, DISA oversees defense technology programs with an annual budget of more than $10 billion.
Norton is from Oregon, growing up in Coquille and Roseburg. She graduated from Roseburg High School in 1982 and went to Portland State University, where she earned a B.S. in general science in 1986. Norton subsequently earned an M.S. in computer science from the Naval Postgraduate School in 1994 and an M.A. in national security and strategic studies at the Naval War College in 2008.
Norton originally had her eyes on a medical career, so she joined the Navy after earning her bachelor's degree to save money for medical school. However, she grew to love the communications field she entered in the Navy and made a career of it. She was commissioned as a general unrestricted line officer in 1987. Norton's early duty stations included the Naval Communications Area Master Station Eastern Pacific in Hawaii, and the Naval Telecommunications Center in Fallon, Nevada. In 2004-2005, she was in Bahrain, where she commanded Naval Computer and Telecommunications Station Bahrain. She later directed communications for Cruiser Destroyer Group 12 aboard the aircraft carrier USS Enterprise and for the U.S. 6th Fleet and Naval Forces Europe.
She served as chief of Naval operations strategic studies group fellow in Newport, Rhode Island, from 2010 to 2012.
In 2013, Norton was promoted to rear admiral and named director for command, control, communications and cyber for the U.S. Pacific Command in Hawaii. She was transferred to the Pentagon in 2015 as director of the Warfare Integration Directorate in the office of the Chief of Naval Operations.
Norton was named vice director of DISA in 2017 in preparation for taking over as the agency's director.
She has recommended the following books relating to national defense in the age of cyber-warfare:
iWar: War and Peace in the Information Age by Bill Gertz.
Ghost Fleet: A Novel of the Next World War by P. W. Singer and August Cole.
Cybersecurity and Cyberwar: What Everyone Needs to Know by P.W. Singer and Allan Friedman.
Lights Out: A Cyberattack, A Nation Unprepared, Surviving the Aftermath by Ted Koppel.
-Steve Straehley, David Wallechinsky
To Learn More: