Director of the Defense Contract Management Agency: Who Is David Lewis?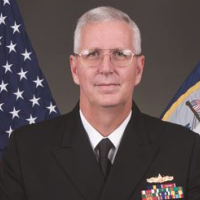 David Lewis
Rear Admiral David H. Lewis, who worked on ship and technological development in the Navy, was nominated March 28, 2017, to lead the Defense Contract Management Agency (DCMA), which oversees the purchase of everything the U.S. Armed Forces need to equip men and women in uniform. With the job will come a promotion to vice admiral.
Lewis was born at Misawa Air Base, Japan, and grew up in Washington state. He attended the University of Nebraska, earning a B.S. in computer science in 1979. As a member of Naval ROTC, he was commissioned as a naval officer upon graduation. Lewis subsequently earned an M.S. in computer science from the Naval Postgraduate School in 1988.
Lewis began his career as the communications officer about the destroyer USS Spruance. He moved up the chain of command, also serving on the USS Biddle as fire control officer and missile battery officer and USS Ticonderoga as combat systems officer.
Lewis made his name in managing ship production. As the Aegis program executive officer, Lewis led the delivery of seven Arleigh Burke class of guided missile ships and procured another 10 ships. Other assignments were assistant chief of staff for maintenance and engineering; supervisor of shipbuilding in Bath, Maine; and working in the Readiness Support Group, San Diego. In 2003, Lewis wrote an article for the Proceedings of the U.S. Naval Institute decrying the time it took—more than a decade in some cases—to bring a new class of warship from conception to deployment.
Beginning in 2009, upon making flag rank, Lewis was made vice commander of Naval Sea Systems Command. The following year, he began a four-year stint as program executive officer, Ships, where he directed the delivery of 18 ships and procurement of another 51 ships.
In August 2014, Lewis took over as commander of the Space and Naval Warfare Systems Command, where he supervised development of new technologies for the Navy, a post he held until taking over DCMA.
-Steve Straehley
To Learn More: