Director of the Defense Advanced Research Projects Agency (DARPA): Who Is Steven H. Walker?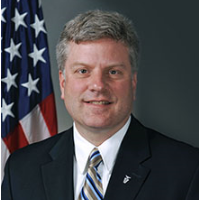 Steven H. Walker
Steven H. Walker, who has spent his entire career working on the research and development of defense projects, was appointed director of Defense Advanced Research Projects Agency (DARPA) on November 13, 2017. Walker replaced Arati Prabhakar, who left at the end of the Obama administration. Established in 1958, DARPA's mission is to ensure the technological superiority of the U.S. military. It's free from many of the restrictions found elsewhere in government to allow it more ability to innovate. DARPA was responsible, for example, for creating the forerunner to the Internet. In October 2016, DARPA transferred to the Air Force the Space Surveillance Telescope. DARPA has an annual budget of almost $3 billion.
Walker has emphasized the increasing importance of space warfare technology, arguing that the Pentagon should shift from large, complex satellites in geostationary earth orbit to low earth orbit made up of dozens or hundreds of small satellites. He has also promoted the development of hypersonic weapons, which travel at more than five times the speed of sound and are also being developed in China and Russia.
Walker earned a B.S. in aerospace engineering in 1987 at Notre Dame. He then earned an M.S. in mechanical engineering at the University of Dayton in 1991, and returned to Notre Dame for his Ph.D. in aerospace engineering, which he completed in 1997.
After earning his bachelor's degree, Walker worked as a research and development engineer at the Air Vehicles Directorate at the Air Force Research Laboratory in Dayton, Ohio, working on airplane exhaust system fluidics and aero-acoustic modeling and simulation research. In 1997, Walker moved to the Washington area as a program manager for the Unsteady Aerodynamics and Hypersonics Research Program at the Air Force Office of Scientific Research.
Walker was named special assistant to the director of defense research and engineering at the Pentagon in 2001. The following year, he moved to DARPA as program manager in the Tactical Technology Office, working on the Falcon hypersonic program, with the goal of creating a platform that would deliver a weapon anywhere in the world in about two hours. Walker was made deputy director of the office in 2006.
He was named deputy assistant secretary of the Air Force for science, technology and engineering in 2010, before returning to DARPA in 2012 as deputy director, the position he held when named director, while also serving, since the beginning of the Trump administration, as DARPA's acting director.
-Steve Straehley, David Wallechinsky
To Learn More: